Featured Clover Starbucks: 6th and Union, downtown Seattle
Melody, July 21, 2012
26
5 min

read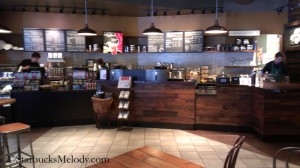 Occasionally, my blog articles read a bit like a diary, and today's article will definitely feel a bit like that.  Please feel free to stop reading now if you that bores you.
Earlier this week, my phone died.  On Tuesday morning I discovered that my HTC Evo would only continuously reboot, and it wouldn't load up.  I needed a new phone.  By Saturday (today, July 21, 2012), I was in serious phone-withdrawal mode.  At least I was able to tweet now and then from my Kindle this week.  I knew that today, I'd be the first person in the door when the Sprint store on Union Street opened up.
I started the day by dropping by Evolution Fresh and grabbing a Southwest Scramble for breakfast.  I didn't plan my morning very well, since I didn't know what time the Sprint store actually opened.  (Turns out, it opens at 10:00 a.m. on Saturdays.)  By 9:30 a.m., I was sitting in the Starbucks at 6th & Union, directly across the street from the Sprint store.  I drank coffee, played Words With Friends on my Kindle, and waited impatiently for Sprint to open up.
Just a few minutes after 10:00 a.m., I walked into the Sprint store on a mission that I would walk out with a working phone.  You have no idea the phone withdrawals I had been going through this week.  I was inside the Sprint store for a full hour, possibly more.  There was a short conversation about whether my phone could be repaired.  The prognosis didn't look good.  The Sprint employee, Patrick B., informed me that I was eligible for an upgrade, and he pointed me in the direction of the newest HTC Evo, which is the HTC Evo 4g LTE.  I quickly fell in love.  Patrick set up the new phone, showed me some of the settings, adjusted a  few of the settings to my liking, and helped me pick out a sturdy case for the phone, as I'm a bit rough on my phone.  We even charged the phone for a few minutes.  I walked out on cloud nine, new phone in hand.
I walked back across the street, back into the 6th and Union Starbucks.  Of course, now all I could do was play with my new phone.  I ordered a beverage, and began to take photos and play with my new toy.  I tweeted my first photo with the phone.  The store wasn't all that busy while I was there.  I knew that I was way overdue to write a blog post about this Starbucks, so I began to take a whole series of photos of this store.
While I was there, I made small talk with Yung, the assistant store manager, and some of the other partners.  A coffee-enthusiastic partner named Andrea was working that morning too.  I was having a great time.  I met Yung some time ago when he was a shift supervisor at 1912 Pike Place.  It's always good running into him.  He's very passionate about Starbucks, and very knowledgeable too.
It's funny how customers seemingly come in in groups, and then the store empties out.  While I was taking photos, the store began to pick up, and several customers walked in.  I continued having fun playing with my new phone and taking photos.
At one point, Yung came up to me and said, "Cliff Burrows is over there."  (Or, he said something to that effect to me – not verbatim.)  Somehow, Cliff Burrows, who is the President of  Starbucks of the Americas, had managed to stand in line, and yet I never noticed him.  I looked up, and there was Cliff was browsing the whole bean wall.  I was amazed that somehow I'd been so into my phone, I'd not noticed Cliff at all.  It did feel a bit like a celebrity was in the store. 🙂
I approached Cliff and chatted with him for a few minutes.  I've run into him before.  In fact, I have a whole category of Cliff Burrows articles on this blog.  He asked me if I had been to the new Evolution Fresh, and if I liked it?  I told him I was there the morning it opened, and that I was definitely enjoying it.  I had no need for a kitchen anymore!  He laughed.  I suggested to him that I'd love to see another Clover location in Orange County, and gave him a suggestion of the store I had in mind.  He took it seriously, and took note of the Starbucks store that I mentioned.
Every interaction I've had with Cliff Burrows has been positive.  And I have heard many  a partner in downtown Seattle tell me they're a fan of Cliff Burrows too.
When I finally got home, I realized that Cliff had managed to sneak into two of the photos that I took.  His back is to me in each of the photos, so he might be hard to spot.  Feel free to try and find him. 😉
And if you're in the area, drop by 6th and Union Starbucks.  It's a huge, beautiful store with a Clover brewer and a great team of partners.  This store was also one of the earliest stores to have a Clover brewer.  I think this store got their Clover in late 2007.
Here's the address:
Starbucks store 3289
1420 – 5th Avenue
Seattle, WA 98101
206 381 3743
I hope you enjoy the series of photos!  (All photos taken with my new HTC Evo LTE phone).  Please do comment.  I love reading your comments.  (And if you're interested, I have a Seattle's Best Coffee blog here.)
Last but not least, "Kurt" was the winner in my last blog contest.  Please email me Kurt!
Related posts