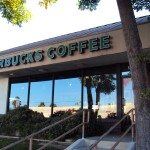 Every Starbucks needs at least one or two long-term partners:  The Starbucks on the corner of Meats Avenue and Tustin Avenue (store #5704) in Orange, has Charlene Keller, an Assistant Store Manager.  I came to California to try the "Refreshers" in San Diego, and of course to visit my family, and the first store I stopped in, fresh from the airport, was this one.  I hadn't intended to write a store review of it:  My agenda included two store reviews, but the store partners were so friendly and genuine that I decided to feature it.
Charlene Keller is a seven-year partner, and loves Starbucks.  She is new to this store, and enjoys the cafe-only neighborhood store.  She happened to be on the register when I was passing through, on my way to visit my mom.  I was tired, and didn't stay too long the day I arrived into Orange (I flew into Orange County on September 25th). The next morning (September 26, 2010) at about 7:45 a.m. I came back to the store to get some photos and wrote my review.  I was glad to see Charlene again.  I watched a steady stream of customers strolling through the store, many of whom Charlene greeted by name.  Charlene was curious about my blog and she sat down near me for just a moment, and then jumped back up, calling out "Hi Jim!" to a regular.  I watched her even say, "Goodbye, See you tomorrow!"  This store knows their regulars.  I realize there are divergent opinions about using names, but I like names.  I heard a barista loudly and clearly call out, "Hillary, here's your green tea latte" while setting the drink on the customer edge of the bar pick up area.
Sitting here in Orange just feels like home sweet home to me, despite the unbearable California heat.  (I hate the weather here).  Included below is a photograph of the Meats street sign.  When I was little and running around town with my mom, I would tell my mom, "Mom we're never lost in Orange because all the street signs have oranges on them."  My mom would laugh and agree, and chime in that if you crossed into Santa Ana or Anaheim suddenly there were no oranges on the street signs.
Since I arrived in the morning, I started the day with breakfast.  Oatmeal with added dark cherry syrup, and a tall for-here cup of Gold Coast Blend (ready and freshly brewed).  The partner getting my coffee pre-warmed my for-here mug.  That's such a nice touch.  My oatmeal was exactly right.  I asked for brown sugar and the nuts but no fruit, and they got it right.  It's a little thing, but I've seen numerous partners throw all fixings into the bag and not really pay attention to what I was asking for.
While I was there the condiment counter got wiped down, the tables were wiped down, and partners regularly checked the lobby.  For those who have read many of my store reviews, you know that I regularly ask a store partner what their favorite coffee is.  I asked Charlene and she replied, "Verona".  That's a great answer.  She told me that when she did her coffee tasting to get her black apron she did a blend of Verona and Casi Cielo!
From what I could see, this store was getting it right: I saw partners smiling, making drinks quickly, connecting over names and drinks, and managing to keep the lobby clean all at the same time.  (I'm a fan of at least one barista periodically getting out from behind the bar and checking the lobby, sampling, and even maybe saying hi to customers while in the lobby, depending on the circumstances).  Bold coffee was ready and freshly brewed in the morning.  While I mention Charlene by name in this store review, I think the whole store deserves a shout out.  Unfortunately, I didn't catch the names of other partners on the floor.
*******
This trip to Southern California produced a total of three store reviews:
If you like reading about store reviews, check out this link here for previous blog posts at StarbucksMelody.com featuring stores:
Hope you enjoyed the three store reviews!
(The first nine people who comment directly in this thread below AND tweet this blog post (Must include also @SbuxMel somewhere in the tweet) will receive a $10.00 Starbucks Gift Card.  This is limited to strictly 9 people.  If you tweet the blog post but not comment, or vice versa, you're not eligible for the $10.00 gift card prize.  Winners must be in Canada or the United States.)
Related posts