Fun little pamphlets from Starbucks in Turkey
Melody, January 15, 2012
14
1 min

read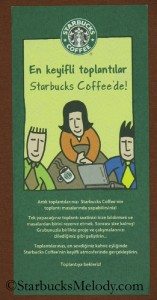 Recently, Sebastian Birr mailed me some in-store Starbucks pamphlets from Turkey.  I have no idea what these pamphlets really say but I thought it would be fun to show them off here.  If you want to tour Starbucks stores in Turkey, I have a blog post about them here:
Again, I owe big "Thank You" to Sebastian who took all the photos of Starbucks stores in Turkey, and has given permission to have them posted here.
I really like all these pamphlets.  One seems to provide a lot of espresso education, and appears to provide a definition for a ristretto shot, and differentiates between a cappuccino, a latte, and a machiatto.  I used an online dictionary to try to figure out what a "Toplanti" might be.  It appears that the "Toplanti Formu" is some kind of form to fill out if you want to have a meeting at that Starbucks.  Be advised, I'm only making a guess on that!  And I think it is a little mysterious that one seems to have an image of a child blowing bubbles – I am not sure what that has to do with coffee.  Sebastian also sent me a tumbler from Turkey, so I included a photo of that too! It's very pretty!
If you like browsing articles on international markets, there are a few more articles here.
I also need to thank Molly at Seattle Custom Framing for taking all the photos below.  Hope you enjoy!  (As always, click on the images to make them larger.)
Related posts