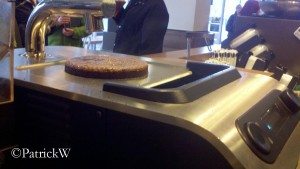 A regular reader of StarbucksMelody.com emailed me with this photo he took at his store, demonstrating the coffee-grounds "puck" from the Clover when a blonde roast coffee is brewed through the Clover.  I thought it was an interesting picture since the coffee grounds distinctly do have a blonde top to them!  I don't think I've ever noticed that before.  I just wanted to share the photo here – it's an interesting sight to see, and of course many of my readers are not located near Starbucks Clover brewers so would otherwise miss this.  Thank you Patrick for sharing your photo and letting me use it here!  No blonde jokes please! 😉
I realize this is very short but I just wanted to pass this along.  A picture is worth a thousand words!
Related posts
Socialize

Subscribe
Join the StarbucksMelody.com mailing list to receive a weekly email with new posts.