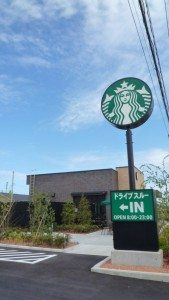 On March 25th this year, Starbucks opened a beautiful brand new store in Japan.  The new store has the new logo just adopted this year, and is a drive thru location.  It is the Kanazawa Okuwa Starbucks and here is the store's contact information:
921-8045
Ishikawa Kanazawa 2-394 Okuwa
From Noboru Sakamoto, I learned that the beverage pick up bar near the Mastrena and a large community table are made with reclaimed wood from the Ishikawa prefecture.   According to Noboru, this area of Kanazawa is increasingly developing with more housing, and is a more central location with nearby schools, hospitals, and a university.  In June of each year, there is a Hyakumangoku festival in Kanazawa which involves a parade with people dressed up in 16th century costumes.
I owe a big thank you to Noboru for sending me these photos as well as a thank you to the store which generously granted him permission to take interior photos.  As some of you may recall from other blog entries that I have done, taking photos inside a Starbucks-Japan stores is generally not allowed.
I've also included a photo of the current lineup of cake pops available at Starbucks stores in Japan:  Tiramisu, Strawberry-Milk, and Chocolate Nut flavor.
I love featuring new store openings and I think the new logo looks great as a big drive thru sign!  One thing that I noticed that I thought was unique was that there was actual framed advertising for the new Frappuccino on a wall.
If you like this blog post, you might like the previous article on the Fukuoka, Ohori Park Starbucks which is a LEED registered store, or the article on Starbucks stores in Kyoto city.  I haven't had the chance yet to feature many stores with the new logo in use as its big signage, but previously I mentioned the Starbucks in Swedish Hospital in Seattle which has the new logo.
What do you think? I want to try the Chocolate Nut cake pop!
Related posts