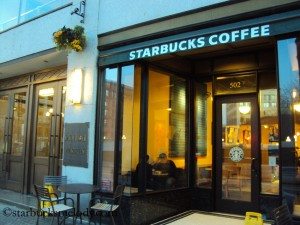 I'm saddened to hear that Starbucks will be permanently closing their Smith Tower location, at the corner of Yesler and Second.  Its final day of business is Friday, February 17, 2012.  Farewell to a wonderful store!  I know lots of colleagues and friends that are fervent fans of this location.   For myself, when Starbucks launched the Clover, I really slowed down in going to that store; but for years now, off and on, I've been a customer of the Smith Tower Starbucks.  It's not all that far from work.  I definitely have a big soft spot for this store.  It's always maintained a very friendly environment, and the partners work hard to make sure the experience is perfect.  And it is a gorgeous historic building.
I wish I had lots of old photos of this store.  I specifically remember taking a few photos when the Vivanno smoothies were launched.  Unfortunately, I am having difficulty finding them.  But thanks to Winter, here are two photos of this store dating from August 2002:
Thank you Winter at StarbucksEverywhere.net for allowing me to use your photos.
I think the decision to the close this location is largely due to the unique dynamics of this area and problems with this building.  There aren't all that many thriving businesses near Yesler and Second, and the Smith Tower Building is reportedly only 19% occupied, as per a Seattle Times report.  I know that the retail space adjacent to Starbucks (the space sharing the southern wall of the store) has been empty since about 2008.  I think (or at least I assume) that when Starbucks moved into the Smith Tower there were many more tenants in the building.  Sadly, this extremely historic landmark in Seattle is in foreclosure, and up for auction next month.
I think the store has done everything they can.  I know the current manager, Brie, and I have no doubt that she has poured her heart into her store.
Goodbye Smith Tower Starbucks!  You've been a well-loved store for about a decade!
If you want to visit this store before its final day of business (2-17-12), here's the address:
Smith Tower Starbucks (Store #3359)
502 Second Avenue
Seattle, WA 98104
(206) 381 038
Related posts