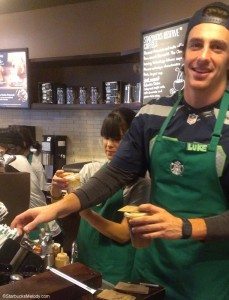 The Starbucks on the corner of 6th and Union in downtown Seattle had a very special guest barista today: Seahawks player Luke Willson (#82) spent an hour at the drink hand-off plane, working hard to bring smiles to customers' faces!  And I watched, and everyone left with a huge smile on their face.  The Seahawks football player was one of 8 players participating in this event to raise awareness and donations for the non-profit A Better Seattle, created by Seahawks coach Pete Carroll.  The Seahawks players were spread out in a variety of Starbucks stores all over Seattle (and nearby Renton as well), and all worked for a full hour, from 3:00 p.m. to 4:00 p.m. today (October 23, 2013).  The official Seahawks article on this event is here.
I dropped by the 6th and Union Starbucks right at 3:00 p.m. today, and pretty much had a blast watching all the smiles, and surprised faces to get a drink from a Seahawks player.  It was clear that some customers just dropped by to get a drink and wasn't expecting a football player to be handing them their drink!
Every drink came with a sleeve personally autographed by Luke Willson!
Here's mine: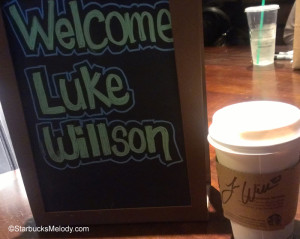 As Luke handed off drinks, store manager Chanel (on the right) was always nearby.  Sarah and Chanel nearly look like ready bodyguards for Luke!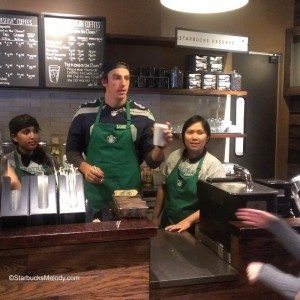 At the end of it all, the store's team got a group photo with Luke Willson: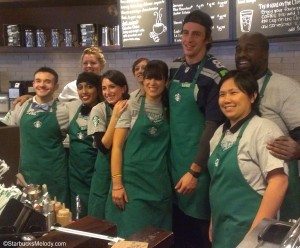 Two of the store's partners ended up with their shirts specially autographed for them.  (On the right is store manager, Chanel).  They both look very happy!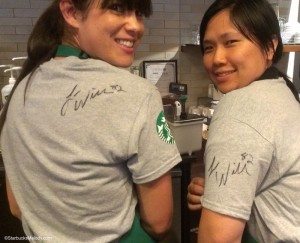 The store's ASM, Jason, got a photo with Luke too: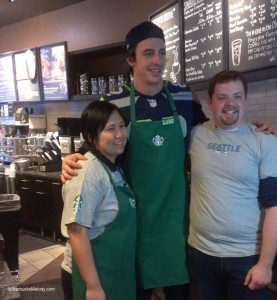 At one point, a shift supervisor from the nearby Fourth and Union Starbucks dropped by, while on a break.  Aaron told me that he's a huge Seahawks fan, and so I had the chance to snap a posed shot of Luke Willson with Aaron.  I think this made Aaron's day too!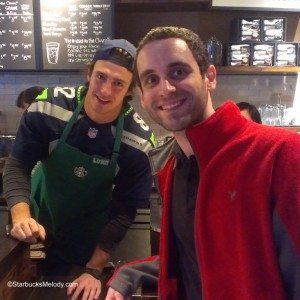 The hour went by super fast.  It was such a unique event, that I definitely wanted to share it with you.  I can only imagine the total surprise when an unsuspecting customer gets a beverage from a dreamy football player in a green apron.
Last but not least, one more pic of Luke Willson in his green apron:
Very cool.
Related posts