Musings of a Starbucks museum and other ramblings
Melody, March 26, 2012
15
4 min

read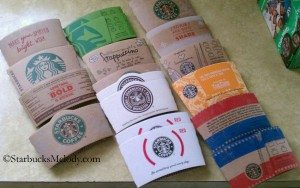 Hello all!
Recently, my friend Rose and I were joking around that between the two of us, we could fill a museum full of Starbucks artifacts.  It's probably only a small exaggeration.  While it is wholly unrealistic to think we'll ever have a Starbucks museum, I thought it would be fun to think of all the things that we could fill it with.  (Considering the huge monetary and legal barriers to the idea of Starbucks museum, it's not happening.) So here are just a few things that could go on display in such a museum (everything mentioned here belongs to either myself or Rose):
There are also Starbucks cards, Bearista Bears, many mugs and tumblers not mentioned above, and I have an original 25th Anniversary in-store sign too.  Of course there is "flair" that goes on baristas' aprons, and merchandise from the Coffee Gear store, and much more.  I have a number of posters that I've never featured on this blog.  The amount of merchandise that Starbucks has produced over the years is incredible.  Of course, if Starbucks wants a museum ever, they have the resources to do that.  They don't need me for that!  But what do you think?  Should there be a Starbucks museum?
I will be out of town the last week of March, so I thought I would share some ideas of other sites you can go to get your online Starbucks fix.  Produced by a regular reader of this blog, there is a fun  Pinterest page on Starbucks.  For all things Starbucks Japan, visit Buckedbythestar.com.  For all things Starbucks UK, there is StarbucksDave.com.  A  former partner recently wrote me saying that he has started a Starbucks podcast.  He's based out of Canada, and the podcast is called Green Apron Radio.
As you may notice, the blog has been "refreshed" a bit in its look.  The Amazon.com link in the right column has been moved up.  If you want to help support this blog, I would ask that you click on that link.  If you are buying something from Amazon.com – and it does not matter what it is you're buying – and you use that link, in a very small way, you'll be supporting the blog.  Please consider purchasing your Amazon.com items through the link in the right hand column!  Thank you!  This blog adds up over time, and I probably spend a little more on it than I should.
On top of everything else I've mentioned, I want to give a shout out to a Starbucks partner in Wilton Manors, Florida, who is raising money for the Florida AIDS Walk.  His name is Ryan, and if you want to donate to his team, click here.  He is trying to raise $2,500 by May 20, 2012.  If you can donate, please do.
And last but not least, please don't forget to send in your chalkboard art submissions.  You do not need to be a partner or an artist to submit something, and there is less than one week left to enter in.  The prizes are great!
I'll see you again in full swing in April.
Thanks for reading the blog!  It's rewarding to see so many people connecting over coffee, well,  in a virtual space.
~Melody
Related posts