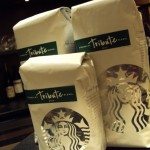 Tribute Blend whole bean coffee officially returns to Starbucks' shelves on March 6, 2012.  It is back by popular demand!  This coffee was originally introduced one year ago to celebrate the 40th Anniversary of Starbucks.
I went to a coffee tasting event at Olive Way for the return of this blend, and thought I would share a little bit from that event.  By the way, anyone can attend!  Please go!  It's free.  Olive Way Starbucks does regular coffee tastings about every two weeks, on Monday nights.  Call ahead to confirm that there will be a  tasting.  Here's the store address and phone number:
Olive Way Starbucks
1600 East Olive Way
Seattle, WA 98122
(206) 568 5185
Megan, a coffee master in training, put on tonight's tasting event.  First, she began with a little education about this coffee.  Tribute Blend is a blend of four Starbucks coffees:  Aged Sumatra, Sun Dried Yirgacheffe,  Papua New Guinea, and Colombia.  It is a "post roast" blend which means that each coffee is roasted separately, and then the all of the beans are combined and mixed together after the roasting process.  One interesting thing that  I learned is that when Starbucks experimented with this as a pre-roast blend (which is more common) they decided that the Sun Dried Yirgacheffe dominated the flavors.
Megan is a fairly new-ish partner, and I loved her personal story about discovering Tribute Blend.  She said that when Tribute Blend was first launched, she was still a customer.  She went into a Starbucks and tried it, and definitely liked it.  Megan said that the very first pound of coffee she ever bought at Starbucks was Tribute Blend, and she bought the Tribute Blend that was offered in the coffee canister container last year.  I loved her story about discovering this coffee, and it seemed totally appropriate that she should lead tonight's tasting.  She did an amazing job!
There were about 6 people present, and we were given maps, and colored in the four origin countries represented in Tribute Blend and the coffee growing belt.  My geography is terrible!  Mickey, (aka "Mr. Opportunity") did a perfect job with his map, so I took a picture of his, not mine!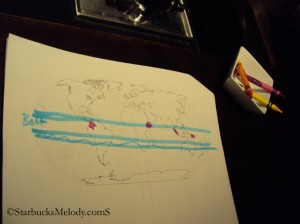 Megan started out with passing around some of the Tribute beans, so we could all smell and look at them.  I noticed a lot of nutty aromas from the whole beans: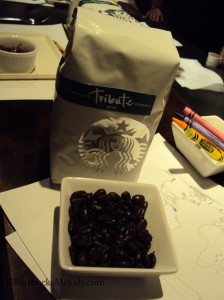 Megan paired a butter croissant with a cherry preserves (which came from Safeway) with the Tribute Blend.  It was such an incredible pairing!  The cherry jam was quite sweet and did a lot to make the Sun Dried Yirgacheffe component of this coffee pop.  I also thought it was remarkable how well the basic butter croissant worked, which brought out the slightly more savory components of the coffee.  By the way, we also tried the new Chocolate Covered Cranberries with Tribute Blend too, and that was delicious.  I want to shine a spot light on these little packages of Chocolate Covered Cranberries:  They are phenomenally good.
Several people in our little tasting group thought that the Tribute Blend was just a little spicier than last year's.  No coffee is ever exactly the same twice (since it is a food product), and although it is just a shade spicier, it is still a really delicious coffee and does taste very close to last year's.  One partner commented that he had already tried it iced, and said that it works extremely well as an iced coffee from the Clover.
Thank you Olive Way for a great coffee tasting!
So who else is looking forward to this coffee being back?  How is Tribute 2012 launch day doing at your store?  And is your store doing any coffee tastings with Tribute?
Here are just a few more photos from tonight's coffee tasting.  I hope you enjoy!
(I took all photos on Monday, March 5, 2012)
Related posts