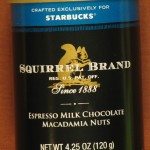 Every holiday season, Starbucks finds some seasonal treats to offer in the store.  This time they outdid themselves with the Squirrel Brand Macadamia Nuts. They are so good.  They are rich and yummy and you can taste the toffee buttery goodness all around the macadamia nuts.  These snacks are dusted with Starbucks Espresso Roast Coffee over the toffee-butter coating.  I cracked open a can of them with my friend Molly (who takes many of this blog's pictures) and I had wanted to leave the can with her, knowing that I'd eat the whole thing too fast.  She shoved them right back at me and said "No, you eat them. I'll be left in a stupor this afternoon if you leave that can with me."  The problem is, these are so good, you'll faint and collapse from an overdose.
Last year there were some toffee-cinnamon sweetened almonds which curled my toes.  Last year's almonds were much lighter than this year's macadamia nuts.
There are two other limited offering seasonal snacks at your local Starbucks:  Gingerbread Biscotti with Macadamia Nuts and Peppermint Bark.  I think that the Peppermint Bark was offered last year too, and it is a layer of chocolate, with a layer of white chocolate on top (with peppermint flavor) with candy cane chips gracing the top of the chocolates.  This is also very rich and deadly.  There is a ton of peppermint flavor and I really like the candy cane on top.  I can't eat a whole one though because of how rich it is.
The gingerbread biscotti is also very good.  When you open up the package there is an immediate aroma of gingerbread.  It can be dunked into coffee or eaten alone.  This treat won't make you pass out like you've just eaten too rich of a meal.  It's good.  I had mine at home with a cup of Gold Coast Blend coffee.
This blog post is a sequel to my previous blog post on the non-seasonal snacks currently offered at Starbucks.  I hate to admit it but one of my favorite things right now actually is the popcorn at Starbucks.  Oh yes, and if you are looking for the Squirrel Brand nuts, they usually are on a table near the Huxley Mouse merchandise.
***
Right now I am super busy at work, and I need to worry about Christmas gifts and cards.  I might have a few super short blog posts coming up soon! Well, a picture is worth a thousand words! 😉
On a new topic, I started a Facebook page for this blog.  The link is here.  I would be very flattered if my readers would "like" my new Facebook page.  Many thank yous!
Enjoy…
Related posts