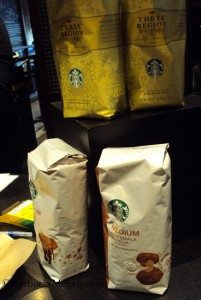 Tonight (April 16, 2012) I went to a little coffee tasting for Starbucks Three Region Blend coffee.  I gained a new appreciation for this coffee.  I wasn't feeling so excited about this blend until tonight's event.  Honestly, I'd simply forgotten how good this coffee is.
Three Region Blend is a fully washed-processed coffee, and combines beans from Guatemala, Tanzania, and Papua New Guinea.  The coffee beans are all roasted together to make a perfect flavor – this is also known as a "pre-roast" blend,  when the blending occurs before the roasting process starts.  This coffee is actually the first coffee where Starbucks experimented with blending beans from all 3 growing regions.
I found a 2011 official blog post on this coffee here:
http://blogs.starbucks.com/blogs/customer/archive/2011/05/05/the-original-three-region-blend-is-back.aspx
This coffee was originally launched in 2010.  It works well iced or hot.  One thing I thought was interesting, tonight I learned that this coffee was launched with springtime in mind:  for these three regions, the coffee beans are best picked in the spring.
Tonight's coffee tasting was held at the Olive Way Starbucks, and hosted by coffee master-in-training, Megan.  We started with a short activity of learning about how elevation affects the flavor of a bean.  We drew out the "Elevation Triangle" and so I snapped a photo of my neighbor's triangle, which looked much better than mine (It is attached in the photos below).  The overwhelming majority of Starbucks coffees are sourced from high elevations, above 5,000 feet.  I learned that Kona is one of the few low elevation coffees sourced by Starbucks.
I also thought it was fun that we all got a Three Region Blend coffee stamp during our tasting.  We compared Three Region Blend to Guatemala Antigua and to Kenya, with the idea that it would be interesting to compare the blend with single-origin region offerings.  The Guatemala Antigua was universally popular, and had lots of smooth cocoa flavors, almost like Almond Roca.  The Three Region Blend was lighter-bodied, and had both a slight citrus bite to it, and lots of cocoa notes.  I noticed that the cocoa aroma from this coffee was quite strong.  One person felt like have Three Region Blend was like having a 'whole piece of dark chocolate.'
The food pairing was the Starbucks Mediterranean flat bread which is considered an "elevated" offering and only available at a limited number of stores.  The idea was to bring out the savory notes with the flat bread.  Indeed, I was impressed and discovered that the savory notes of the Papua New Guinea do come out stronger when paired with this savory bread.
We had a lot of fun at this coffee tasting, and I definitely recommend that you get to an Olive Way coffee tasting!
The next one will be on April 30, 2012, and a coffee master will be walking us through the newest Reserve coffee offerings.  The Olive Way coffee tastings are every other Monday night at 6:00 p.m., and they are open to the public, and free to attend.  Please come join us there!
Olive Way Starbucks
1600 East Olive Way (Between East Summit and John Street)
Seattle, WA 98102
(206) 568 5185
Here are a few more photos:
By the way, for more blog articles on coffee tastings, click here.
Related posts