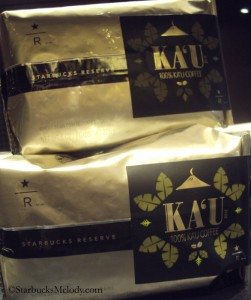 Tonight was a sneak preview coffee tasting for the new Starbucks Reserve coffee Ka'u.  It launches in Clover Starbucks stores everywhere on October 15th.
At the Olive Way Starbucks, Starbucks partners Donna and Megan walked us through a tasting for this new coffee from Hawaii.  Donna prepared a French press, and we tried the coffee with several foods.  The complementary flavors for this coffee are citrus, nuts, caramel, and chocolate.  I have to say, from this tasting tonight, I think that something too caramelly might be overpowering.  The citrus and nut pairings may be ideal.  The Ka'u has hints of a coconut flavor.
The coffee is a medium body, and is naturally very creamy.  The aroma was definitely sweet.  I think it's interesting that this coffee is grown on land that previously was used for sugar cane crops.
Donna loved this coffee.  She wanted to make sure that I knew that this coffee would, "Blow your mind away!" and emphatically told me that: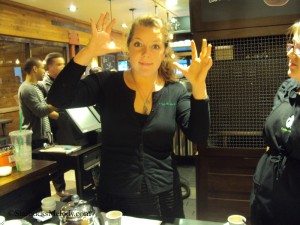 I love it.  I got the message.  This was one of Donna's favorite coffees ever.  She drinks this one black.
We tried the Ka'u with pineapple first, then the second pairing was macadamia nuts: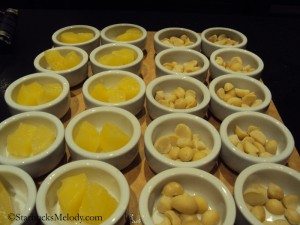 The pineapple was just great with this coffee.  I definitely think that the citrus flavor is extremely enhanced with the pineapple.  The citrus notes are not are pronounced as in many African coffees, but still distinctly there.  I think it would be a super interesting tasting to compare Ka'u with a coffee from Kenya.
I always like to have a photo of the beans too: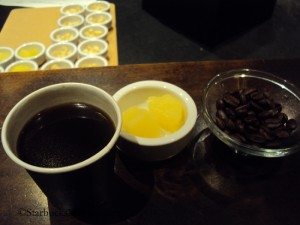 That photo is a little dark, but basically the Ka'u beans are solidly a medium roast profile.  The macadamia nuts were pretty good with it, and gave the coffee a little more backbone, but I liked the pineapple pairing much better.
The last thing we did was pair the coffee with a coconut gelato.  The gelato itself was so delicious that it was a bit hard to concentrate on the coffee, but that was indeed the best of all the pairings.  This coffee is your go to coffee for all your fruit salads, citrusy foods, and coconut treats.  The coconut gelato was a little bit soupy because there was no freezer to store it in, but it was still absolutely delicious: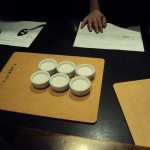 Last but not least, if I haven't mentioned it already, you can get this coffee at StarbucksStore.com.  The link for the Ka'u coffee is here.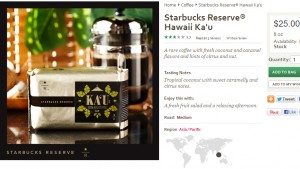 As a bit of a non sequitur, one of the participant's in tonight's coffee tasting was a barista from the Shipping Container Starbucks store in Tukwila, Washington.  Dawn, the partner from that store, has been there since it's opened.  We talked about how completely unique her drive-thru Starbucks is.  It's made of shipping containers!  That store is coming up on its one year anniversary this December.  If you're ever visiting Seattle, the Shipping Container Starbucks is definitely a must see!
Hope you enjoyed the Ka'u coffee tasting – it will "Blow your mind away!"
You can find more coffee seminars and tastings by clicking through the coffee tasting category on this site.
(There is still time to enter into a giveaway to win an iPhone case (or tasting cup), and other Starbucks swag.  I am trying to raise money and awareness for my favorite non-profit, Food Lifeline.  Please please share that giveaway blog post, and help put food into Washington food banks.)
Related posts