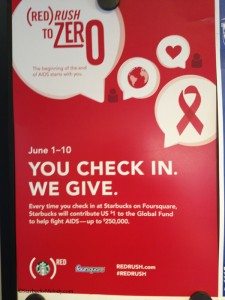 From June 1, 2012, through June 10, 2012, every time you "check in" at Starbucks on Foursquare, Starbucks will donate $1.00 to (Red).  They'll donate a dollar for each Starbucks check in, up to $250,000 dollars.
Foursquare is a kind of location-based social media.  You use a Foursquare app on your phone to find your location, and then click "check in."  It is important to know that you can check in either privately or publicly.  You can broadcast your check in via Twitter or Facebook, or instead check in privately.  Only your friends (meaning those whom you have approved to follow you on Foursquare) can see your location.  The person who checks in the most frequently at one location is crowned the "Mayor" of that location.
I do regularly use Foursquare.  I definitely have moments where I wonder if anyone is watching at all, and in any case, my check in stream probably looks pretty boring.  It's a steady stream of locations in Seattle.  I will definitely start checking in more consistently starting June 1st!
There's an official website for this promotion here: www.RedRush.com.  And you can follow (Red) on twitter, or visit their official JoinRed.com website.  There is a little more about the Red Rush on the JoinRed.com blog.  Starbucks is just one of many companies that have partnered with (Red) to fight HIV.  (Red) is striving for an AIDS-free generation by 2015.
Who is with me?  I like this.
Check your negativity at the door, please.  I know not everyone likes (Red).  I do.  And it makes sense for Starbucks to partner with them.  Starbucks sources coffee from all over the world, and is a global entity.
Have fun checking in on Foursquare!
Related posts