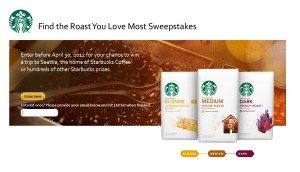 I thought I'd pass along the fun link to a Starbucks-sponsored sweepstakes.  You can enter in to win a trip to Seattle.  Without any further hesitation, here is the link:
You can enter through April 30, 2012, and the winner wins a trip to Seattle with three friends, and the Grand Prize winner receives a personal coffee cupping experience with a Starbucks coffee master.  The winner also receives a check for $1,700 as spending money for his or her three-day stay in Seattle.  The Grand Prize winner and all travel guests must be over age 18.
There will also be 1000 "First Prizes" given out.  The "First Prizes" are a "tasting kit" which includes a French press, 3 bags of coffee, a coffee scoop, and a Starbucks gift card with $15.00 pre-loaded on it.
Having glanced through the rules for this sweepstakes, it appears that Starbucks partners are not eligible to enter!  Sorry!  I know many a Starbucks partner who would love a trip to Seattle.  Check out the contest rules for more information.
************
Tasting kit giveaway:
As luck would have it, my Starbucks contact person indicated to me that she could muster up one more "tasting kit" for a giveaway here on the blog.  Here's a picture of the tasting kit: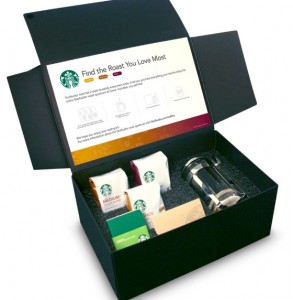 If you would like to enter in to win a tasting kit from StarbucksMelody.com, here is what you need to do:
1. Leave a comment below and tell me which roast you love the most.
2. Must be over 18.
3.  Entrants must be within the United States.
4.  Entry comment must be received no later than April 5, 2012, at 6:00 p.m. PST.
5. One entry per person.
6. I'll take up to 70 entries maximum – otherwise it gets too overwhelming.
Thank you Starbucks for sponsoring this contest!  I'll put all the names in a hat and draw a winner.  Can't wait!
************
Just disregard this next paragraph:  A funny little story:  When I first heard about this sweepstakes, I happened to be visiting with my sister, and checking my email from my niece's laptop.  I tried to enter the sweepstakes but it wouldn't let me enter.  I got weird error messages all the time.  I just couldn't do very much.  Later, I learned that my sister has installed some sophisticated parental controls software on that laptop!  No wonder I couldn't enter in.  Boy, parental control software is annoying!  LOL.  Worked just fine to enter in, once I switched computers.
************
Full disclosure:  Thank you Starbucks for sponsoring this giveaway for the "tasting kit."  As my readers know, this is a rare treat!
Enjoy!
Related posts