Tahoe Blend: Starbucks Custom Blends (Open Thread).
Melody, August 20, 2013
58
3 min

read
It has been a long time since I've had an "open thread".  By request, I'm doing another one.  What this means is that you may write about any Starbucks-related topic you like in the comments.  Feel free to talk about anything from Starbucks hand-crafted root beer, to their partnership with Danone, to Reserve Coffee Micro Blend No. 11, to how the Verona packaging has changed over the years, to anything you like that relates to Starbucks.  The comments are open.  However, the same comment rules as always apply.  From this blog's "About" page, here's this blog's comment policy:  "This is my blog and not a public space.  Critical discussion is fine.   I will, however, decline to approve (or  delete your comment) if you descend into personal attacks, inappropriate language, disrespectful behavior, or excessive self-promotion and link-baiting."  I have often approved comments that were critical of Starbucks, if written in a way where the comment simply represents an opinion, and not an attack.
There is a topic that I want to talk about: Starbucks custom blends.  For those of you who do not know, this is when baristas experiment with the Starbucks core coffees, and re-blends them into something new.
I received an email in early August which said the following: "I have seen a few stores make their own custom coffee blend. There is one in tampa that made a Sarasota Summer Blend. It's 1/3 house 1/3 Guatemala and 1/3 three region. Could you post about it? I'm curious if other store make them and if anyone has any ideas for any. I experimented today at work. I love espresso roast because of its smooth taste but I don't like the heavy body of it. I like pike because its light on the youngest but I don't like the acidity of it so today I tried a blend of 3/4 espresso roast and 1/4 pike. Very smooth and took away the bite of acidity of pike and had a nice full flavor but light on the tongue."
Ever since that email, I've been toying with the idea of talking about barista-created custom blends.
Also this month, quite recently, a reader wrote me stating that he'd recently been on a trip to Lake Tahoe and picked up a bag of "Tahoe Blend."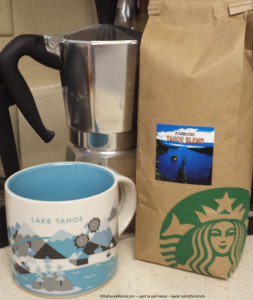 He said that he discovered that he really liked the "Tahoe Blend."  Unfortunately, he didn't know what was in it, and was hoping that he'd be able to find someone who knew.  By chance, are there any partners in Lake Tahoe reading this who know what this special blend is?  I'm hoping that someone in the comments will be able to shed some light on Tahoe Blend!
The floor is yours now.
Edit on August 20, 2013:
This morning Heidi, a reader of this site, sent me an email with an image for Redwood Blend, which is another custom blend as described above.  I think it's a great picture to also talk about local custom blends, so here it is: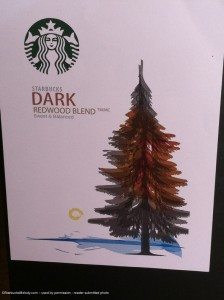 Related posts