Starbucks opens two brand new stores in downtown Seattle today
Melody, July 2, 2012
11
5 min

read
Today (July 2, 2012) was the grand opening of two brand-spanking new Starbucks stores in downtown Seattle!  Both are café only stores at the bottom of tall office tower buildings.  Neither one of them has a Clover brewer.
It's been a long while since Starbucks has opened two new stores on one day in Seattle!  Both are unique and distinctive stores.
Fifth and Columbia
Starbucks store 16741
800 Fifth Avenue
Seattle, WA 98104
(206) 623 3425
The store at 800 Fifth Avenue is a smaller store that opens up towards Fifth Avenue downtown.  It's at the bottom of the Fifth Avenue Plaza which is 42 floors full of offices.  There's very little indoor seating in this store, but it has a great front patio area. The partners here are the best ever.  I'll be honest, I'd been excited about this store becoming a new Starbucks for a long time.  The store manager, Emily, is someone whom I met when she was a barista at the First and Pike Starbucks back in 2009.  I've known her for a full three years.  I even have a blog article featuring her ears.  In 2009, I saw her wearing some handmade Via Ready Brew earrings, and snapped a photo of it for the blog.  For years, I told her she had famous ears. 😉  I feel proud of Emily.  She is fantastic.  She is always friendly, and she's very sharp, and she is an awesome new store manager.  Congrats on your promotion and your first store to manage!   She has a great crew of partners, most of whom I already knew from other stores right in that area.  Congrats to Nancy, Nadia, Ria, Amy, Luke, Michael, and Bo!  I'm sorry if I have forgotten a few names.  Please forgive me!
In case you're wondering, this Starbucks is a Monday through Friday store only, and is open from about 5:00 a.m., (hours may yet be adjusted) to 6:00 p.m.
Emily's store on Fifth is not too terribly far from where I work, so I've walked past it a number of times, and took photos while it was under construction.  I peered in a couple of times while the inside was still being set up, so I included those in the series of photos below for this store.  I want to point out the great Siren on the wall, and the patio seating:
Before the store open, Emily told me several times that her new store was "built for speed."  I guess this is the place to go if you want a fast latte! LOL
Here is the rest of the photos of this lovely new store: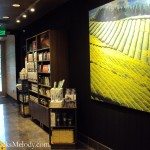 ****
****
Third and Seneca
The other brand new Starbucks in downtown Seattle is at the corner of Third Avenue and Seneca Street.  It's a little bit more tucked away inside the lobby level of the building.  It also has great access to the University Street Metro bus tunnel stop.  Here's the address of the other new Starbucks:
Starbucks store #15719
1201 Third Avenue
Seattle, WA 98101
(206) 467 3079
I had dropped by the Fifth and Columbia store early in the morning.  This store at Third and Seneca, I dropped by about one hour before their closing, at about 5:00 p.m.  During my entire visit to Third and Seneca, three partners were working.  The store manager was not there.  I didn't actually know these store partners in advance of my visit to their store.  (I know that I joke that I know a lot of Starbucks partners, but really,  I don't know that many partners!)  I ordered a passion tea, and asked for a mini apple pie warmed up in the oven with whip cream atop it.  The partners were happy to oblige.  Everyone was definitely friendly.  I thought it was a nice touch that Juan, the register barista, gave me the pie on a plate with a real fork instead of a plastic fork.  That was exactly what I wanted.  He seemed to read my mind.
The details in this store are fantastic.  I really like the little nuanced touches that Starbucks store design put in this location.  It's a comfy space designed with ample seating, and plenty of electrical outlets too.
The fixtures are some of the most unique fixtures I've seen at a Starbucks.  I've heard that this store is intended to have a bit of an "industrial" look reminding one of wrought iron and transportation, and that is in recognition of the fact that it is so extremely close to a major Metro bus tunnel stop/Link Light Rail stop.  Take a look at the interesting pulleys that this lighting is affixed to: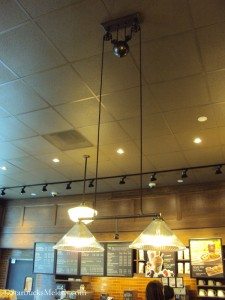 A few more interesting things to point out about this store:  Most of the seating is higher table seating, but the tall stools around the tables are designed as nice, soft comfy stools.  I hope you can see see them in the photos below.  The wall art primarily displays historic Seattle buildings, and has really great lights hanging right over the wall art.  Last but not least, this store has one of the newer style chilled RTD cases, which is not seen in many stores.
I hope you enjoy your tour of these two new stores!
Here are a few more photos of the store at Third and Seneca:
Related posts