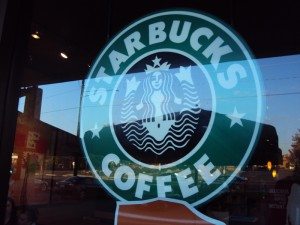 Ask yourself, what do the Starbucks at Lynnwood Square, (#350) Crossroads Mall (#340) in Bellevue, and the Columbia Center (#101) all have in common?
If you answered that these three store all have signage or visuals somewhere using the Starbucks logo from 1987 to 1992, then you guessed correctly.  By way of a refresher course, the Starbucks logo has been through a number of changes over the years, and very good history of it can be found on this website here.  The 1987 to 1992 version of the logo was green, with a belly button, and two full siren tails. These three stores, as far as I know, are the only stores around with any vestiges of this particular 1987 to 1992 era Siren logo.
The Crossroads Mall store has an exterior wall and patio area with two very large murals, and a very large exterior sign with the old logo.
The Lynnwood Square store has two beautiful interior lighted signs with the old logo, one of which hangs by the bar, and the other in the front window. The quality of the store's signs is fantastic. Unlike the other two which look worn from years and years of use, the Lynnwood store sign appears in very good condition.
The Columbia Center also holds the distinction of being the first Howard Schultz Starbucks, thus it was the first Il Giornale store, opened in the 1986 to 1987 time frame.  Today, the Columbia Center is a vibrant lively store open Monday through Friday, 5 a.m. to 6 p.m., catering to building tenants, and those that walk over from Seattle's Administration Building, King County Courthouse, Seattle Municipal Court, and City Hall. This store is also a Clover Starbucks.  The Columbia Center is Seattle's tallest building.
If you're reading this, and you know of a store that uses the OLD green logo, before she suffered an amputation at the waistline, please contact me. I'd be very interested in seeing photos of more stores that still modernly have this seventeen year-old version of the Starbucks logo in use.
Lynnwood Square, (#350):
Crossroads Mall (#340) in Bellevue, WA:
Columbia Center Starbucks, downtown Seattle, WA, (#101):
Related posts