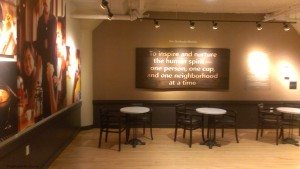 Happy Leadership Conference to all the Starbucks partners in Houston! (Or  to those dreaming of being there).  Today starts the Starbucks Leadership Conference.  The last big one (in the United States) was in 2008.  I tweeted this, but since some readers here don't see my tweet (and I can a lot more in  a blog post), I just wanted to say a huge "Happy Leadership Conference" and thank you to all the store managers who make the Starbucks mission statement come to life.
The photo comes from inside the Starbucks headquarters   in Seattle.  It's a huge sign on a wall in an area of high foot-traffic, just as you enter on the eighth floor.
The Starbucks Mission Statement reads, "To inspire and nurture the human spirit – one person, one cup, and one neighborhood at a time."
What do those words mean to you?
(For the Starbucks history buffs, as I understand it, during the 2005 Starbucks Leadership Conference, Starbucks gave their store managers this highly collectible set of espresso cups and saucers.  I bet there will be Starbucks schwag again! LOL)
Related posts