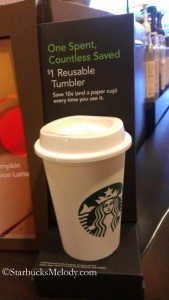 The $1.00 reusable Starbucks cup is here:
I promised myself that I'd slow down on blog posts, but this really caught my eye!  Starbucks is now selling (as of October 2, 2012) a Grande-sized (16 ounces) re-usable plastic cup.  The price tag is only $1.00.  This cup is essentially a plastic cup that looks like the iconic Starbucks paper cup – it's much thinner than a typical re-usable tumbler, but  it is sturdier than a paper cup.  Because it's a thin plastic, it's estimated to have a lifespan of about 30 uses.  It's only $1.00!  Use it ten times, and it's paid for itself with the cup discount.  When you use your own cup, mug, or tumbler at Starbucks, you save ten cents on your drink.
Starbucks has been trying all kinds of things to try to get people to bring in their cup more often.  For example, on Earth Day, Starbucks typically offers free brewed coffee to customers who bring in their own cup.  Another example happened in January this year.  Some might remember that Starbucks offered a special promo tumbler where if the customer brought in that tumbler during January this year, brewed coffee was free.  The percentage of customers who really bring their own cup, mug, or tumbler into Starbucks is embarrassingly low.  Hey customers, please start reusing your own mug or cup!
According to the 2011 Starbucks Global Responsibility Report, for several years in a row, the rate of customers using a personal cup has been less than 2 percent of all transactions.  That's shamefully low.  In 2009, only 1.5 percent of transactions included a personal cup discount.  In 2010, that number was 1.8 percent.  And in 2011, it had only grown to 1.9 percent.

There are only two things that will improve that number: First off, customers have to make it habit to use their own cup.  Keep it in your car.  Throw it in your tote.  Throw it in your briefcase.  And secondly, the baristas at the registers cannot forget to ring in that personal cup discount.  That's it.  Of course the larger issue is actually getting customers to bring in their own cup.
With this new plastic cup, it will pay for itself with ten uses.  Then after that, you throw it in your recycling because both the cup and lid are fully recyclable.  My understanding is that because it is a fairly thin plastic, you will likely still need a sleeve for your beverage.  For your information, I've been told that it's dishwasher safe for the top shelf of a dishwasher.
I've already heard partners saying that they didn't get a lot of these cups in stock, so if you're going to get one, don't delay.
Would you use this little cup?  What do you think?
Edit on October 3, 2012: This appears to be a Pacific Northwest item only.  Hopefully there will be a national launch of this later.
Related posts