Featured Clover Starbucks store: REI store, Denver, Colorado
Melody, October 4, 2012
12
3 min

read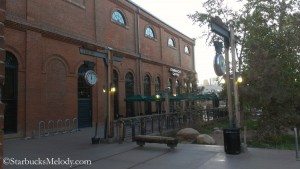 The Clover Starbucks inside the REI store in Denver, Colorado  is really a unique store!  Those who've been following this blog know that I am on a journey to write about as many Clover Starbucks as possible, and I visited this Denver store on September 29, 2012.  This Starbucks really is attached to a REI!  There is a direct entrance to the Starbucks from the area near the Clover area.  You don't need to go back outside to go between REI and the Starbucks.  And, if I haven't made it clear, this is a company-operated Starbucks.
It's a huge old-looking brick building close to the core of downtown Denver.  I have to admit, once in a while when I stopped by a new store I get so engaged in conversations that I forget to take great photos.  This kind of happened in this circumstance.  Sorry that there are not more pictures!
I met the store manager, Michael, who prepared a little coffee tasting of Starbucks Brazil Peaberry with the Starbucks Vanilla Almond Biscotti.
I should back up a minute.  If you want to visit this Clover location, here is the address:
Starbucks – REI (Store #6342)
1416 Platte River, Suite A
Denver, CO 80202
(303) 477 5445
I want to say a big thank you to Michael for the quick coffee pairing.  I think it's a very Starbuckian tradition that when you have a  special guest, you share a cup of coffee with him or her.  I am always especially flattered when partners plan a coffee tasting for my visit, even if a quick coffee tasting.  Michael walked me through the four steps of a coffee tasting (1. Smell 2. Slurp – make lots of noise 3. Locate – Pinpoint where you notice the flavors in your mouth, and 4. Describe the flavors of the coffee.)  I wrote about the Starbucks Brazil Yellow Bourbon Peaberry earlier this year – every store I know of is long-since sold out of it.  Michael apparently hung onto his last open bag for this coffee tasting.  And the Vanilla Almond Biscotti was a great choice.  It only made me wish that Starbucks would source this coffee again soon.  Michael did a great job, and it was an excellent food pairing.
This store has been here for twelve years!  It's original opening date was April 28, 2000.  As I understand it, it launched the Clover about one year ago, and recently underwent a major remodel too.  I think my timing was perfect to check out this store!
By the way, while I was at this store, I met up with a regular blog reader (Ethan – he seems to never comment but I know he's reading) who is also a partner in Denver.  Ethan it was wonderful meeting you!
Since, I didn't get enough photos, this just means you have to go there yourself and see how great this store is!
Related posts