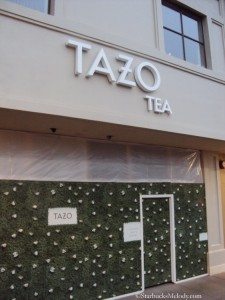 The first Tazo Tea store (operated by Starbucks) has its signage up!  The store is located in Seattle's University Village shopping area, and is in a location that used to be a Lululemon store.  I dropped by early this morning because I had heard (via a nice anonymous email using the contact me form on this site) that the signs were up.  I arrived this morning before the sun was up and started taking photos.  I have to apologize because the photos taken before the sun was up are really too dark!
I like the exterior wall design.  It is images of teacups laying in a bed of tea leaves (I presume!) with cute little sayings such as, 'It's nearly tea time' and 'Something good is steeping.'  My favorite was definitely, 'We're rolling out carpets of chamomile.'
I took a few photos in the dark, and then dropped by the nearby University Village Starbucks for coffee and a scone.  Actually, I was surprised by my exchange at the register.  I handed the register barista my Evolution Fresh Starbucks Card, and she said to me, 'Do you have another form of payment?  Or would you like to pay by a Visa?' before even trying to swipe it.   I simply said that it is a Starbucks Card.  I was mildly surprised, but not in anyway upset.  She swiped the card, and of course it worked.  In any case, if you're in the area, be sure to visit this Starbucks and try some freshly-baked pastries.  I also want to mention that there was a 'Now Hiring' sign for the Tazo Tea store posted inside the University Village Starbucks – I took a photo of that in case any of my readers want to submit their resume.
I came out of the University Village and it was beginning to rain, but the sun was up.  I took a few more photos in the light, which definitely turned out much better!  I wish I had taken all of these photos in the daylight!  I am sorry that a few are so dark.
Anyway, here you have a first look at the Tazo Tea sign at University Village!  I think it's schedule to open up late Autumn.  I'm excited to explore it.  Actually, I'm not much a tea drinker, but it's new and exciting, and I will check it out once it is open.  (Trust me, if there is anyway to get a sneak peak early – hopefully there will be a media event or something – I will try to get that posted here.)
Enjoy!
Related posts