The combo cupping: Tea and Coffee; Warmth and fun
Melody, April 4, 2010
18
4 min

read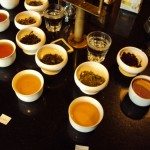 This blog post is a mixed-bag of things. It's a tea cupping (I don't think I've ever talked about a tea cupping before, though I talk about coffee cuppings all the time.) It's about the very limited small cooperative Rwanda Fair Trade Starbucks coffee available in the UK, Ireland, and Middle East (this is not the same coffee as was widely available in Starbucks stores all over the US last summer). It's about Arabian Mocha Sanani again. And it's about having fun.
I'm just going to walk you through my experience at 15th Avenue Coffee and Tea, and today's morning cupping.  (If you're confused by the discussion of 15th Avenue Coffee and Tea, please read carefully this blog post: Streetlevel 101: There are two non-branded mercantile Starbucks).
Today I ran into 15th Ave Coffee and Tea excitedly with two bags of rare Starbucks coffee: Arabian Mocha Sanani and Rwanda.  Both of these coffees came to me from the UK, and are sold in the United Kingdom, Ireland, and the Middle East.  The Arabian Mocha Sanani is the beautiful coffee from Yemen growing region, and is known for its wine and spice aroma and flavors.  The Rwanda coffee is NOT the same coffee that was sold all over the United States just last summer, but rather was a small purchase of beans from a small fair trade cooperative in Rwanda.  Both of these coffees are only offered in limited markets because there is not enough of these beans to supply 16,000 stores all over the world. Rather, Starbucks sources only a smaller amount of the beans to ensure their high quality, and then offers them in limited Starbucks markets.
Much to my surprise, the baristas at 15th Avenue Coffee told me that today was going to be a tea cupping. Tea? I thought puzzled.  I wanted coffee.  The baristas immediately offered to cup my two rare coffees too.  I think they wanted to try them too.  So today was the rare kind of cupping where we had both coffee and tea on the table.
When cupping tea, the barista steeps four grams of tea for three minutes, with water hot off the boil.  Like in a coffee cupping, the teas are arranged in order from lightest profile to darkest profile, with the cuppings starting at the lightest end of the spectrum.  Of course all the teas are Tazo full-leaf teas.  (At least I think they're all Tazo teas.)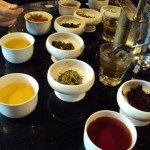 Today we cupped the following teas:
Silver Needle White
(Green) Genmaicha
(Black) English Breakfast
Baristas Jenna and Alex got everything set up to go, and the cupping started. The group included two random customers who joined, Major, the baristas, and myself.  One of the two customers was named Mike, and definitely not camera shy. He was truly completely okay with his image all over a Starbucks blog!
Just before everything gets started: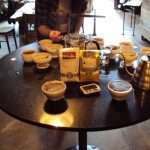 The coffee brews, and then barista Jenna shows customer-Mike how to break the coffee, letting him know that you cannot eat or drink the crust on top (also, please go back to my previous blog post here for more detail about what a coffee cupping is.  This is not the same thing as a coffee tasting):
At this point, the cupping was now in full swing and "Major" joined in.  For those readers who don't know, Major is the "project manager" of the two street level stores, which really means that he is the boss of the two street level Starbucks stores (15th Avenue Coffee and Tea, and Roy Street Coffee and Tea).  At one point during the cupping, he pretty much grabbed my camera out of my hand and snapped a few pics of me.  I suppose he finally got tired being featured in a million Melody pics.  I have to admit, it feels like he's my boss. After all, it is his store, not mine, and if Major says, 'Melody, hand over the camera' you bet that camera is going straight to him. At one point we were in the middle of cupping the teas and one of the baristas asked me what I thought of 15th Avenue's teas in comparison to the teas at a normal Starbucks, and I just had to look at her blankly and say, "I have no idea. I'm not a tea drinker."
As to the two coffees, the Sanani had the very distinct wine aroma and wine flavor profile that it is famous for.  The Rwanda was a very hearty delicious meal of a coffee.  One barista said that it smelled, "meaty" in a good kind of way.  It was indeed a pretty rich and almost savory coffee with a medium to heavy body that  I really thoroughly enjoyed, and I could see that others did as well.  Both coffees were a hit.
Notice all the smiles going on in these pics. A good time was had by all: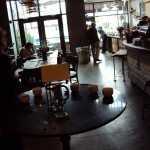 That was today's adventure in cupping tea and coffee in one sitting. Sorry that there isn't more substantive detail about the tea.  Hope you enjoyed this tea cupping.
Related posts