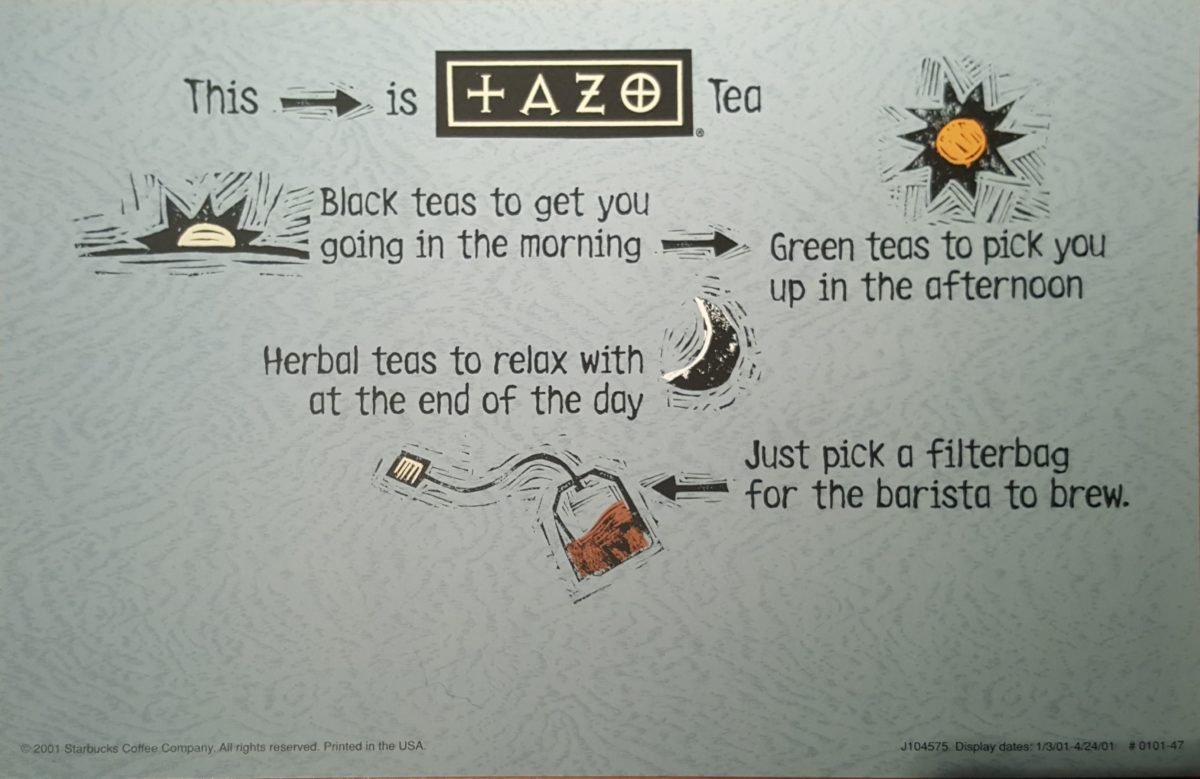 #TBT – Tazo Tea
Melody, February 4, 2016
7
2 min

read
If you walked into a Starbucks in January 2001, you might have seen this signage, encouraging you to enjoy a cup of tea!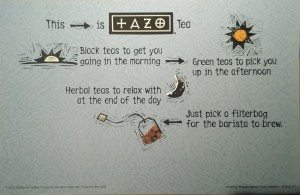 "This is Tazo tea. Black teas to get you going in the morning. Green teas to pick you up in the afternoon. Herbal teas to relax with at the end of the day. Just pick a filterbag for the barista to brew."
Starbucks still fully owns and operates Tazo tea, though Tazo has now become a brand that it primarily just found in grocery stores. A part of me still very much loves the teas that Tazo produced. I'm still sentimental about Tazo tea.   In November 2012, Starbucks opened up one Tazo tea store in Seattle's University Village shopping area. Less than one year later, Starbucks turned it into a Teavana tea bar.
I still have a couple of tins of Tazo tea from the Tazo tea store in University Village: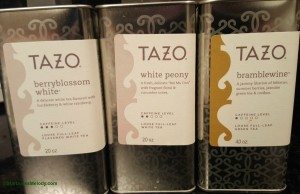 Also I still have a Tazo beverage menu and tea catalogue from the 2012 Tazo tea store. (Also shown is an old pin that Starbucks partners could earn for their aprons):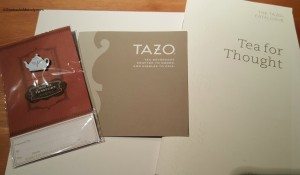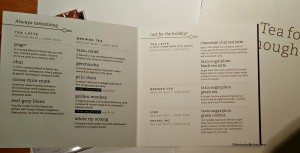 I was at the Gene Juarez salon in downtown Seattle recently and saw this Tazo tea set up. I want this box! Starbucks used to work to put Tazo tea into other businesses: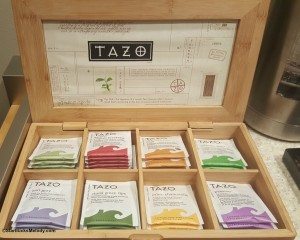 Somewhere at home, I believe I have a Tazo tea apron from the 2012 tea store. I may add that photo later.
And here's a little more on Tazo: The original 1999 signage that was in Starbucks stores, shortly after Starbucks acquired Tazo tea. A little less than one year ago, the original founder of Tazo tea, Steve Smith, passed away at the age of 65. Steve Smith was a tea genius, having started and operated three successful tea companies: Stash tea, Tazo tea, and Smith Tea.
And that is quite the flashback to the era of Tazo tea at Starbucks! I know must have some readers here who are still sentimental about Tazo.
Related posts