As usual, I'm trying to keep my readers up to date on Starbucks news.  Two things recently caught my eye that I wanted to mention.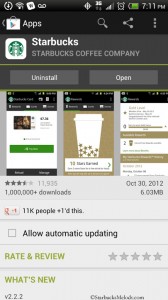 1. The Starbucks Android application:  
The Starbucks rewards application for the Android phone has improved dramatically.  Today, I downloaded the latest version to my phone, an HTC Evo, and finally could really see all my Starbucks reward history.  In addition, the display for the number of rewards available actually worked.  This part of the application has not worked for me at all, until today.
If you have a smart phone, you definitely want to download the latest version of these applications.  It's super easy to do.  Just go to the Android market (it's called "Play Store" on my phone) and search for "Starbucks."  It will be the first thing that comes up.  And then install it.
I know that some people are frustrated that they can't easily see how many rewards they have, and this is a big fix for the segment of Starbucks customers who are Android users.  Now you can see how many rewards are available.  Since I have never been an iPhone user, I can't comment on what that application is like.  I have to assume that if you are using the Starbucks app on an iPhone, you also want to be using the latest version.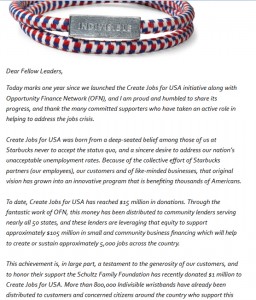 2.  Election Day and Create Jobs for USA (Free wristbands on 11/6/12):
November 2, 2012, marks the one year anniversary of the launch of the Create Jobs for USA initiative.  For those who don't know, Create Jobs for USA is a Starbucks-created  initiative to help fund jobs for smaller business through a partnership with the Opportunity Finance Network.  Money raised through the Create Jobs initiative is managed by the Opportunity Finance Network which then in turns provides financial assistance/ low cost loans to small businesses that otherwise would not be able to get financing from a traditional banking institution.
There is an official Starbucks blog post on the one year anniversary of Create Jobs for USA.   You can read the entire Howard Schultz letter about the one year anniversary on the official blog.
One thing caught my eye:  The letter states, "This achievement is, in large part, a testament to the generosity of our customers, and to honor their support the Schultz Family Foundation has recently donated $1 million to Create Jobs for USA. More than 800,000 Indivisible wristbands have already been distributed to customers and concerned citizens around the country who support this initiative. And with this donation, on Election Day, November 6, Starbucks U.S. company-operated stores will offer wristbands to those visiting our stores."
I have to admit, I had to read that twice to make sure I understood exactly what was being said.  Maybe it's just me, but it wasn't clear to me on the first read of it.  It sounds like the letter says that Howard Schultz's personal foundation donated $800,000 to Create Jobs for USA.  Some portion of that donation will fund a big giveaway of the Indivisible wristbands, to be given away on Election Day.  Nowhere does it say that you have to pay $5.00 on Election Day to receive your Indivisible wristband.
In short, it appears that Starbucks partners will be giving away wristbands to anyone who wants one on Election Day.  I think it's a nice way to show your support of the Create Jobs for USA, and so I'd encourage customers to pick one up!
Get your free Indivisible wristband on Election Day!  (In the comments, it's been confirmed that you can receive a free wristband on November 6th)
Related posts