Starbucks is giving their oatmeal a major overhaul!  I have already tried the new oatmeal, and I am definitely excited to write about it:  I genuinely like oatmeal.  Starbucks first introduced the Perfect Oatmeal into their food lineup September 3, 2008.  The oatmeal introduced in 2008 (and up until this change starting January 3rd) was made from rolled oats, and customers could have toppings which included brown sugar, dried fruit mix, and a nut medley (mostly almonds).
Starting January 3rd, the new Perfect Oatmeal will be a blend of rolled oats and steel-cut oats.  So here's what the oatmeal itself will look like: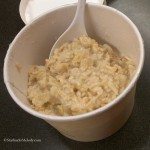 What's new is that customers can now choose from two different toppings, each with a different combinations of good foods.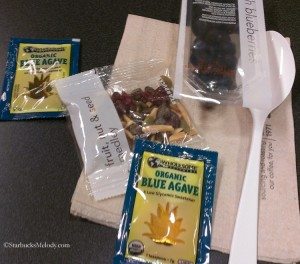 Hearty Blueberry:
The new topping combination is the "Hearty Blueberry," and comes with a package of blueberries, a fruit and nut medley (dried figs, cranberries, pepitas, and almonds), and a package of agave syrup.  "Hearty Blueberry" toppings are a little more expensive than what's currently offered.  I don't recall exactly, but if a customer chooses the "Hearty Blueberry" combination of toppings, he or she will pay about a $1.00 more than what was paid before when buying the older version of the oatmeal.
During my tasting event, I learned that the new "Hearty Blueberry" option is fairly low calorie.  Agave syrup is a lower calorie option than the traditional brown sugar option.  The new oatmeal with the "Hearty Blueberry" toppings is about 280 calories.
I loved the new oats.  I thought the blueberries were amazing.  I am tickled pink to learn that they can be purchased separately for about $1.25.  I would love to experiment with throwing them in a vanilla bean Frappuccino in the summer.  Or, they might be wonderful in a smoothie too.
I realize that agave syrup is all the rage, and there are many customer requests for it on sites like MyStarbucksIdea.com.  Having said that, it did nothing for me.  It wasn't nearly as sweet as using traditional brown sugar.  I am behind the times.  Give me my brown sugar, and I'm happy.
I realize that I mentioned this before, but I think it is awesome that one can buy the blueberries separately!  I snacked on them during my tasting and I like the idea of being able to buy what essentially is a snack pack of blueberries: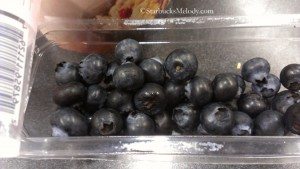 Classic Oatmeal: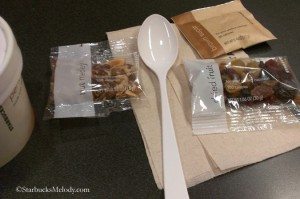 The other oatmeal option is the "Classic Oatmeal," which comes with brown sugar, a nut medley, and a packet of mixed dried fruit.  The "Classic Oatmeal" is what customers are used to ordering now, and there is little change from its previous version.  The nut medley is new in the sense that it didn't have pepitas in it before, so this won't be exactly like the previous oatmeal toppings but it is indeed very close.
Here's the new oatmeal with the "Classic" toppings mixed in: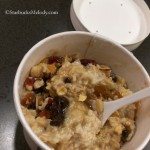 Melody's take on the new oatmeal:
I love it.  You can see the difference in the oat themselves.  The introduction of steel-cut oats is wonderful.  And I love the blueberries, and the many options that opens up!  I like the new nut medley as well.  I'm not a huge fan of agave syrup.
The new oatmeal launches tomorrow in Starbucks stores.  About 4,500 Starbucks stores in the U.S. are getting the "Hearty Blueberry" toppings.  There will be some U.S. stores that will only get the "Classic" toppings, as those stores are in the more remote markets.  And my understanding is that Canada is not getting the new "Hearty Blueberry" topping at all.
So what do you think?  I am excited to hear your reviews of the new oatmeal!
If you don't recall what the old version of the oatmeal looked like, here's a photo of it: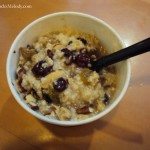 FTC required disclosure:
Since I did not pay for my two bowls of oatmeal, I think I have to make a required FTC disclosure.  Essentially, I went to the Starbucks headquarters and two nice PR staff members escorted me to a room that was set up with two bowls of oatmeal.  We drank Veranda Blend coffee with a pump of Vanilla syrup, and I ate oatmeal (two bowls of it!) and made small talk as the two nice PR people watched me eat.  All of this was courtesy of Starbucks.  I decided not to write about the Veranda Blend coffee since that blend doesn't do much for me.  One of the two PR people had a wonderful Stella and Dot scarf, and if she'd brought in a Stella and Dot catalog, I might have been ordering jewelry/accessories as I ate. 😉  Don't you think this is a great looking scarf?
And a good time was had by all.
Related posts