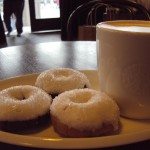 This blog entry is about mini sparkle donuts. That's it! Nothing complicated here! I like them. The vanilla one is my favorite. The frosting is wonderfully sweet and rich. I don't even know what those sparkles are (okay, I assume sugar) but they're wonderful little sprinkles. The donut part of the donuts is moist and yummy. And these little guys are a bargain at seventy-five cents each.  Starbucks launched the mini donuts on January 12, 2010, and I hope they stick around for a while, though I can't count on it.  Starbucks is notorious for rapid new food launches.  One minute it's there, the next minute it is gone.
I felt like my last two blog entries had a little intensity to them – an intriguing interview with Bryant Simon, and an intense discussion of customers making donations at the register.  When all is said and done, I felt like it was time for an easy short blog post. Here it is: I like sparkle donuts.  The photo for this blog post was taken January 16, 2010 at one of my favorite Starbucks.  I asked for for-here ware. As an aside, this store has great for-here ware.  The beverage was a whole milk chai latte. I don't admit it often, but yes I drink a number of non-coffee beverages.
Hope that you enjoy sparkle donuts too! Has anyone here tried them?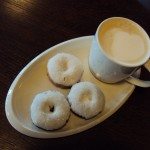 Related posts