I recently found a Starbucks where time has stood still.  1995 is still well and alive.  It's the Bellevue Starbucks which I wrote about previously  in an article about names on cups.  It is  a store with  dated light fixtures, and an amazing team of partners.  I was very impressed with the passion in the store.  I thought — and of course this is only my opinion; taste is subjective — that some of the store's design is now an eyesore in light of the many beautifully remodeled Starbucks stores in the Seattle area.
I thought that this store was so remarkably in need of a remodel that I should write an article about it.  This is your "before" article in what will hopefully be a two-part series.  I've heard that this store is slated to have its major remodel in 2013.  For the Seattle area of Starbucks stores, this is an absolute one of a kind in its design.  The major remodels have already been done on so many stores, such as the Queen Anne Starbucks, University Village; and new stores like Terry and Republican absolutely shine.
Here are the lights.  They look like Jolly Ranchers gone bad (in my opinion).  This is what stands out the most to me about this store:
Interestingly, Audra, the store manager, mentioned to me that she has had customers tell her how much they love the ceiling lights in this store. In my humble opinion, they look like they've been untouched since 1995.  I'll be blunt:  Those light fixtures are just ugly, in my opinion (taste is subjective!).  This store has been in this location for a very long time, given that it was one of the first few Starbucks ever.  The mural on the wall is dated from 1995, which suggests that this Starbucks had a major remodel in 1995.  Actually, I do kind of like this mural still:
Right now the seating is mostly on one half of the store.  It's a very inefficient use of space.  This store is almost always packed.  In 2008, this Starbucks added a Clover brewer, and a map of coffee growing regions was added to one wall.  I actually really like this touch!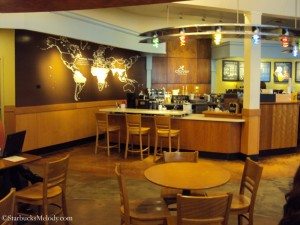 I will admit that there aspects to this store that are not terrible.  However, I know that when the Starbucks store design team gets their hands on this space, it will look much better.  I don't know if it's apparent from these photos, but the store has a very large footprint.  The current design doesn't maximize the possible seating in the store.  The area in front of the merchandise wall is open and has no seating at all.
This is the same store where I wrote an article talking about baristas using customers' names on cups.  I want to make it clear that my disparaging remarks about the store's ceiling lights have nothing to do with the great people who work in this store!  And as I always say, at the end of the day, it doesn't matter what the store looks like.  It's the people in it that make it come to life.
I'll wind up my "before" article for this store with a few more photos.  I hope that some day next year, I will be writing that "after" article.
What do you think?
Related posts