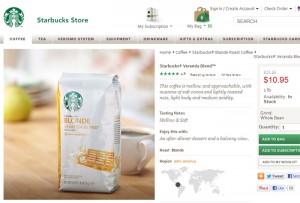 A downtown Seattle partner recently mentioned to me that Veranda Blend makes for a wonderful shot of espresso!  I wanted to try this out for myself.  As it turns out, Roy Street Coffee and Tea is now pulling Veranda Blend as their default espresso option for espresso beverages in their store.  (For those who don't recall, Roy Street is a coffeehouse operated by Starbucks).
I dropped by Roy Street this morning (January 21, 2013) and decided to check it out.  I ordered simply a "tall latte" in for-here ware, and sat very close to the espresso machine and watched the action.  Before I left, I also ordered a solo shot of Veranda Blend to make sure I was really experiencing it as an espresso.
It was wonderful!  I know this sounds odd that a Latin American blonde roast profile might be great as an espresso, but I know from experience that some Latin American coffees make for beautiful shots.  I have had Casi Cielo pulled as espresso and it is completely fantastic.  And on several occasions, I have tried Pike Place Roast as a shot of espresso, and while it doesn't excite me as a drip, I do like it as a shot of espresso.  By the way, I definitely like Starbucks Espresso Roast brewed as a drip coffee too.
The Veranda Blend was extremely sweet and nutty as a shot.  That's not to say that I would order that every time.  I still do like Starbucks Espresso Roast too.  However, if you have a home espresso machine and you want to try something different, Veranda Blend is a definite must try.
It would not surprise me  if someday we see Veranda Blend (or some other blonde roast profile coffee) available at Starbucks as option for your espresso beverages.  There's a reason why I say this:  First off, it wouldn't be that hard to do – Starbucks could use a decaf hopper in one of the two machines that most stores have and put Veranda Blend in it.  Also, we know that Starbucks has experimented with offering other coffee blends as shots.  Most recently, a Starbucks in Portland, Oregon was a test for Guatemala Antigua as a shot of espresso.  Furthermore, it has been in the news that Starbucks now offers a blonde roast espresso in France.  When I add all that up, it just seems totally plausible that someday we are going to see Veranda Blend offered in Starbucks stores everywhere as an espresso coffee option.  Of course, I'm making some big leaps here, and it's always extremely risky to try  predicting what Starbucks will do!
I took a photo of my latte, my solo shot of espresso, and also several blonde shots of espresso being pulled.  By the way, I have always thought that there's something especially beautiful about watching espresso shots being pulled!  Enjoy!
Related posts