Spotlight on Nampa, Idaho Starbucks stores.
Melody, September 1, 2014
9
5 min

read
I went to Nampa, Idaho! It was actually a fairly spontaneous drive from Seattle to Idaho. I explored three different Starbucks stores and want to share my experiences with you:
12TH AVENUE ROAD AND EAST HAWAII AVENUE STARBUCKS IN NAMPA, IDAHO: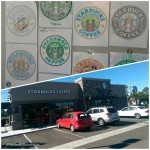 I can't really pick a favorite of the three stores, but I want to start out by mentioning the 12th Avenue Road and Hawaii Avenue Starbucks. This is a newer Starbucks – it just opened February 28, 2014. It's a cute little store with a drive-thru too. One thing that made this visit amazing was meeting Shift Supervisor Jessica Graika. She's the community service lead for her store and she has a passion for making community service events happen. I noticed a wall with some crayoned-in Sirens, like children's art work, and I asked about it. This prompted a large discussion of being involved in the local community. The colored in Sirens were part of a much larger event on August 10th, held at the 12th Avenue Road store, to raise supplies and money for the Valley Women's and Childrens Shelter (which is a division of Boise Rescue Mission, from what I can see).
Jessica arranged for a "family night" hosted by her store: lots of children were present and there was a lot of fun that evening. Some partners volunteered their time to do face-painting for the kids. The store arranged for sampling of pastries, had the Sirens available for children to color, and arranged for the local fire department to be present with a fire truck! Jessica said the kids loved the fire truck!
This sounds like it was a great event. How awesome that the store did this! This is the kind of thing that makes my heart smile. Part of my connection with Starbucks is how it encourages partners to really get involved with their communities.  The official Starbucks Community Service website is here.
Another tidbit about Jessica is that sings opera! She studied opera here in Seattle, long before moving to Idaho!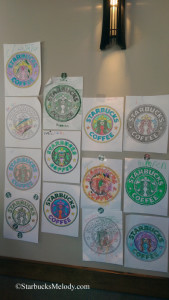 I-84 AND GARRITY BLVD. STARBUCKS IN NAMPA, IDAHO: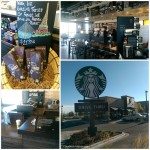 I stumbled upon the Starbucks off of I-84 on North Happy Valley Road, and had a great time visiting this store! It's a Clover – Reserve Starbucks and opened just this year on January 27, 2014. I had the chance to meet the store's manager, Kimberly, who is just beaming with pride about her gorgeous new store. I stopped by the morning of August 31st, and I ordered an oatmeal and a short Brazil Fazenda. So I ate my breakfast, took some photos of the store, and noticed some nice chalk signage for baskets of coffee too.
I rarely do this, but I want to call out an element of store design. I had a distinct moment of thinking, "Well, that's a silly design." I ordered a short Brazil and noticed that the barista made the coffee in a tall cup. In don't really care that much about the size of the cup, but I was sitting near the Clover and mentioned in passing, "Are you out of short cups?" The barista replied with something like, "I thought we had some. Where did they all go? Let me double check." And at that moment she grabbed at a cabinet to open it up, looking inside for mugs. The top of the cabinet collided with a light fixture: (I don't know if you can see what I mean in this photo but the door of the cabinet cannot be fully opened because of the light fixture blocking it.)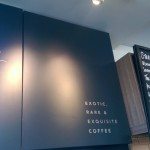 I spontaneously said something like, "Well that's a silly design," and the barista just laughed. Agreeing with me, she replied with something like, "Oh I've hit that thing a couple of times!" This store has a cabinet that they can't totally open.
Of course despite this small laugh of the cabinet design, everything in this store was wonderful. If you are ever in Nampa, Idaho and craving a Clover-brewed cup of coffee, you absolutely should come visit. It has a large community table with power underneath it, lots of seating, and a friendly crew of partners.
KARCHER MALL STARBUCKS, NAMPA IDAHO: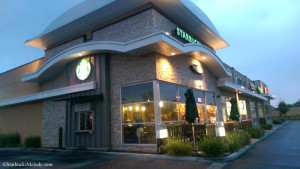 The first of the three Nampa, Idaho Starbucks I went to was at 1451 Caldwell Blvd., extremely close to the Karcher Mall, in Nampa. (This store is pretty much in the parking lot of the Karcher Mall). I arrived early evening on August 30th, after a lot of miles of driving. As I drove over I-84, I encountered pouring rain, lightning, thunder, and  I saw more tumbleweeds than ever before in my entire life. The wind was fierce at times. There were moments when it was like the sky just opened up and I watched as a minivan ahead of me hydroplaned on the highway. I drove a little bit white-knuckled to this store.
By the time I walked into the Karcher Mall Starbucks, I had gone from hungry almost into the realm of "hangry." The young partner was so absolutely polite to me despite that I have no idea what I said to him or if I spoke in coherent sentences. I'd driven from Seattle that morning, and made it to Nampa, Idaho about eight hours later. I asked for a Komodo Dragon, and ended up ordering a panini because I was so hungry. The young barista (I believe he said his name was Clayton) made me a pour over to the Komodo Dragon, and brought it out to my table where I was furiously searching online for a hotel in the immediate area. This store gets a huge two thumbs up for being calm and polite in the face of tired and hungry customers.
On the return drive to Seattle, it was perfectly beautiful summer weather. I managed to take a couple of photos as I drove, and much later put them together into a photogrid. Despite the weather over the mountains into Nampa, I really kind of like very long drives. If I have another lifetime, I might want to be a long-distance truck driver! 😉 Here's the pics from the trip home: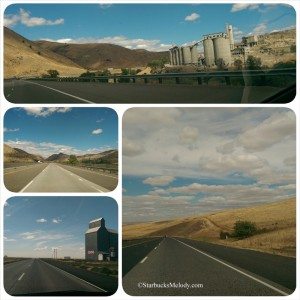 Hope you enjoyed this look at Nampa, Idaho Starbucks! These three stores solidly gets two thumbs up.
Related posts