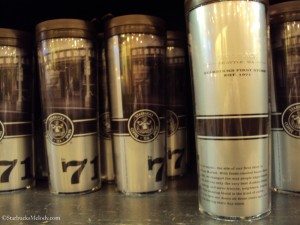 At the 1912 Pike Place Starbucks, almost all of the merchandise is exclusive to that store.  You have to come visit Seattle to get it!  There are special mugs and tumblers, and an exclusive coffee too, which is called Pike Place Special Reserve.
During my last trip into this store, I bought a 16-ounce tumbler exclusive to the store.  And it is made in the USA too!  You can win this tumbler!  Just leave me a blog comment below.  Talk about whether you've ever been to this Starbucks, or whether you would like to visit 1912 Pike Place.  Or tell me what Starbucks destination would you like to visit?  Who knows.  Maybe you would love to visit Starbucks in India?  There is now a Starbucks in Ho Chi Minh City too!  I would enjoy hearing about your visit to 1912 Pike Place, or favorite dream Starbucks travel destination idea.
Your odds of winning depends on the number of entries.  No key words in your user name.  One valid entry per person.  Void where prohibited by law.  You must be over age 18 to participate.  I will ship this tumbler anywhere.  If you're in Istanbul, and you have never commented on this site, this is your perfect opportunity to say "Hi"!  No spam comments.  You do really have to answer the Starbucks destination questions.  "I like coffee" is not a valid entry.  Because it can be a little overwhelming doing these giveaways, I will cap the number of entries at 125.   That means that there could be many more comments than that because some people will naturally comment about others' comments without entering in.  You must post your comment before 9:00 p.m. (PST) February 14, 2013.
Please do not send me an email as your entry – that won't count.  By the way, I apologize for this glitch, but if you are viewing this blog on a mobile device in mobile view, you may have to switch to desktop view to comment.  I installed "WP Touch" to make the blog more mobile device friendly, but it seems to have a glitch where you cannot comment in the mobile view.  I have no idea how to fix it.  This poor little blog needs help! LOL
Good luck winning your exclusive 1912 Pike Place tumbler!
I can't wait to read your comments about your dream Starbucks destination.   As for myself, I would love to go see some of the international Starbucks stores, especially the famous "Bank" Starbucks in Amsterdam.  (Dear Starbucks, you can fly me there any time you like!)
Related posts