Do you want an old Starbucks logo reusable cold cup?
Melody, May 17, 2013
106
3 min

read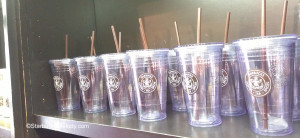 Do you want an old Starbucks logo reusable cold cup?  These special "Grande"-sized reusable cup are only available at one store: 1912 Pike Place Starbucks.  I am giving one of these special reusable cold cups away – just in time for summer!   You'll get lots of jealous looks when you're walking around with one of these in your hands.
To enter, leave a blog comment before May 24, 2013 at 6:00 p.m. (PST), or before this article reaches 200 comments, whichever comes first.  This is a contest all about sharing, and "liking."  You can share anything from my Google+ profile.  There are "like" buttons at the bottom of each article, and on my blog's Facebook page too:  if you have a Facebook profile, I hope you'll click like on something.  You can easily click the "share" button and Facebook share an article too.  You certainly could Tweet an article too.  (Please tag me as @SbuxMel or @SbuxMelodyBlog too.)  If you're stumped for something to share, you can "re-pin" something from my Pinterest profile.  You can submit a blog post to StumbleUpon.
Share anything on this blog!
Your odds of winning are based upon the number of eligible entries.  The contest will close at 200 comments, even if that is sooner than May 24, 2013.
Your blog comment needs to say, "I shared!" and just tell me generally whether you picked Facebook, Google+, Twitter, or Pinterest. – You can write whatever else you like in the blog comment, but it must include "I shared," and please let me know what social media you used.
You must be over age 18 to enter.  Void where prohibited by law.  You must have a postal address in the United States.  Unlike past blog contests, I will delete any off topic comments.  I hope you'll leave a comment with a valid email address – if you win, it will make it easier for me to get in touch with you.
Back to the topic of 1912 Pike Place Starbucks, I dropped by on Tuesday the 14th.  I took a couple of pics, and for fun, here are a few of them: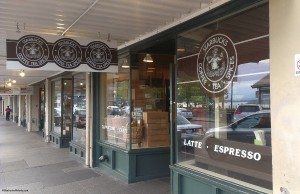 That is the front of the store, along Pike Place.  Though it's not obvious, I stood there for at least a solid five minutes waiting for a moment of no foot traffic going in or out of the store!  I have always said, there's no such thing as a bad picture of 1912 Pike Place.  It's always a beautiful photo.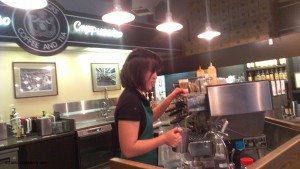 I ordered a mocha with Cubano shots, and stood at the bar area watching the barista work.  I find watching a manual espresso machine to be enchanting!  I snapped this random picture as I stood watching the bar barista in action.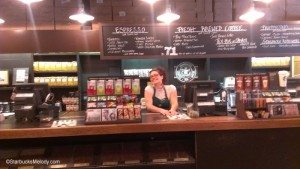 One of my favorite baristas was working when I dropped by last Tuesday.  Shelly was at the register.  I think she has been there for a lot of years!  Anyway, I always like seeing her.  She makes jewelry as a hobby, and if you want to visit Shelly's Etsy page, click here.
Hope you enjoyed this visit to 1912 Pike Place Starbucks with me!
This is not an open thread.  Each comment should represent one entry.  Only one entry per person.
Good luck to you!  I always cross my fingers for everyone!
Melody
(You should only see eligible blog contest entries in the comments.  Other comments will be deleted.)
PS: I hope you'll take a second and visit my other blogging project, MelodyEats.com.
Related posts