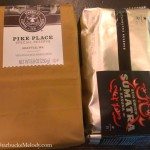 Time for an old fashioned giveaway.  I'll be sending you Starbucks whole bean coffee, if you win.  You'll get one bag of Sun-Dried Sumatra and one bag of Pike Place Special Reserve.  The Pike Place Special Reserve is a coffee blended just Seattle's Pike Place Market, and can only be purchased at 1912 Pike Place or at the First and Pike Starbucks.
How do you enter? It's super easy:
1. Like the blog's Facebook page.  Well, that's more of a request than a requirement.  I realize that many people reading this already have liked it.  In addition, there are people who don't use Facebook!
2. You must leave a comment below.  Tell me what hooked you on Starbucks and why.  Or tell me what was your first cup of Starbucks coffee, and why it was memorable.
3. I'll ship anywhere.
4. All entries must be received before November 2, 2012, at 12:00 p.m., PST.
5.  You must be over 18.  Void where prohibited by law.
6. Have patience with me.  Allow up to a couple of weeks for your prize to get out in the mail.
7. No links in your comments.  You can place your blog's url in the Comment Luv plug in.
As an aside, I want to encourage my readers to read about the Starbucks at 1912 Pike Place.  It's a great store.  There's an interview with the store manager here, and an older article about the store here.
Enjoy!  Good luck winning!  I look forward to reading your comments!
Related posts