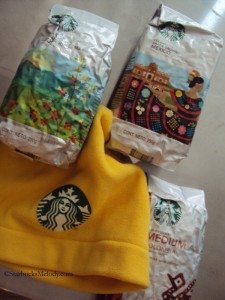 I just want to say a big "thank you" to the two people who sent this gift bag of Starbucks coffee. Nathan, a Starbucks partner in Edmonton, recently took a trip to Mexico and picked up these bags of coffee in a Starbucks store there.  I've met Nathan on two separate occasions when he's vacationed in Seattle, and he is one very coffee passionate partner! And, a heck of a nice guy too.  What a wonderful surprise to find Starbucks Shade Grown Mexico, Starbucks whole bean Colombia, and Starbucks Bella Vista F.W. Tres Rios Costa Rica coffee all awaiting me when I arrived home from work.  The yellow cap with the Siren on it was in the same bag, and came from Becca, also a Starbucks partner in Edmonton.  Thank you two very much!  Made my day.
(By the way, notice how pretty the packaging is!  I would really love to see some prettier packaging return to the U.S. coffee offerings.  I have felt a little disappointed at the new look of the whole bean wall in Starbucks stores in the U.S.)
Related posts
Socialize

Subscribe
Join the StarbucksMelody.com mailing list to receive a weekly email with new posts.