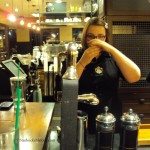 I am  looking for people to come join in at the East Olive Way Starbucks coffee seminars.  One thing that keeps them going is good attendance by customers, and so I am inviting you to join us.
The coffee seminars are generally every other Monday night, at 6:00 p.m.  The store's coffee seminar Facebook page is here – please click "like" and follow their events.  You can call the store at 206 568 5185 to confirm their schedule of events also.
The East Olive Way Starbucks is located in Seattle at 1600 E. Olive Way.  That is on the corner of East Olive Way and Summit Avenue.  You can get there by bus – King County Metro routes 8, 43, and 47 will get you there, and there is a limited amount of parking.
Everyone is welcome – customers and partners alike!  They are free of charge.  If you're interested in coffee, this is for you.  The next coffee seminar will be held on February 18, 2013, and the store's coffee masters will be talking about the importance of the freshness of your coffee, and using the right grind.  (There are four fundamentals of great coffee: Freshness, Grind, Proportion, and Water.)
You can also follow this Starbucks store on Twitter too.  And, I hope you'll browse through some of the past coffee tastings they've done too.  I hope to see you there!
Thanks!
Melody
Related posts