Now and then I receive emails or Facebook messages from people who want me to spread information about something their involved in.  I don't necessarily say "yes" to every single request that comes my way, but I do genuinely enjoy passing on useful information.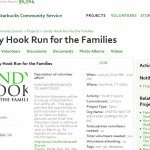 The first thing I want to talk about is the Starbucks community service page for the Sandy Hook Run For The Families.  Lesley, a partner in Connecticut, has organized "Team Starbucks" to run and help out in the 5k race to benefit families of the Sandy Hook tragedy.  She's trying to raise $1,000 for Team Starbucks.  If you want to make a donation, click here.  If you happen to be in the Connecticut area and want to get involved, use the Starbucks community service page.  Your donation goes to a good cause!  Hope you'll help.  And thank you Lesley for putting this together!
This is a good time to mention that anybody can register and use the Starbucks Community Service website.  Hope you'll check it out!
Next up,  a partner in Ohio contacted me, asking me to spread the word about an Instagram community.  I'll be honest, this one confused me a bit since I don't use Instagram.   However, if you use Instagram and you're a Starbucks partner in the mid-America region, there is an Instagram community just for you.  Just do a search for Starbucks_Midamerica_partners on Instagram.
And last but not least, don't forget that you can follow what's happening with the Olive Way coffee seminars by "liking" their Facebook page.    The next coffee seminar will be held on February 18, 2013, and the topic is the importance of freshness and grind.
Thank you for the many emails and messages!
~Melody
Related posts