Coffee tasting: Starbucks Kape Vinta and Muan Jai coffees.
Melody, February 16, 2013
27
4 min

read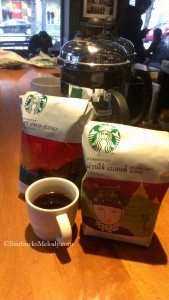 Right now, StarbucksStore.com is offering some of the limited international coffees that are usually difficult to come by.  Currently, Muan Jai, Kape Vinta, and Puerto Rico  coffees are available at StarbucksStore.com.  (This article won't talk about Puerto Rico blend.  I reviewed it previously.)
If you're looking for these two coffees at StarbucksStore.com, here are the links:  Kape Vinta Blend and Muan Jai Blend.
Before I go any further, I want to explain briefly what I mean when I talked about the "Starbucks International Series" of coffee.   That's not the official Starbucks name for them!  I just call them that because it seems to fit.  Starbucks offers special blends of coffee beans for certain countries.  The hallmark of these "Starbucks International" coffees is  that at least some of the beans, if not at all, are grown in the country where the coffee is exclusively sold.  In other words, if you were in a Starbucks in Brazil, you might find "Brasil" blend, which is a blend of beans grown and sourced from Brazil.  That coffee is usually only sold in Brazil.  It's very rare that these coffees become available elsewhere.  If you were in China, you might find the South of the Clouds blend of coffee, which includes coffee beans grown in the Yunnan province of China.  South of the Clouds coffee is only sold in China.  I'm not sure of the exact number of the international series of coffees, but here are a few that I know about:
Brazil – Brasil Blend
China – South of the Clouds
Mexico – Mexico Blend
Puerto Rico – Puerto Rico Coffee
Philippines – Kape Vinta Blend
Thailand – Muan Jai
I bought Kape Vinta and Muan Jai from StarbucksStore.com, and ran to a nearby Starbucks to do a quick coffee tasting with a few of the store's partners.  They were definitely game to make a couple of French presses and compare them.  Mark and Aaron at the Fourth and Union Starbucks tasted the coffees with me.
I have to admit, I thought the descriptions on the packaging left something to be desired.  Both Muan Jai and Kape Vinta are described to be "medium" coffees, and both are described as being "spicy."  However, the Muan Jai also has the words "Bold & Spicy" on its packaging.  And in fact, both coffees are described as pairing well with cinnamon.
Muan Jai:
I have to say, the three of us all agreed that this coffee was noticeably bolder than the Kape Vinta.  This is a bold coffee, and there's little about it that I would describe as "medium,"  despite that it's been roasted to a medium roast profile.  Even the aroma had some distinctive black pepper notes.  This coffee was weighty in the mouth, and the flavors seem to hit in the center of the mouth.  One thing about the Muan Jai is that despite that it a complex and spicy coffee, it had a fairly soft mouth-feel.
If I had to do a second coffee tasting with Muan Jai, I think it would be super interesting to compare this coffee to Starbucks Komodo Dragon blend.  I can easily say that when compared side by side with Kape Vinta, it is the bolder of the two coffees.
While Muan Jai is described as pairing well with "cinnamon rice pudding," I bet it would go nicely with savory foods too.
Kape Vinta:
The aroma of the Kape Vinta was spicy too.  I thought it was a bit like grabbing a variety of spices for a chicken dish.  To that, Mark responded that the aroma had "11 secret herbs and spices!"  I enjoyed this coffee a lot.
This coffee was round and complex in the mouth, and I thought I detected a very light juiciness or tang to it.  I definitely thought the coffee was a little sweeter when paired with the Starbucks reduced fat cinnamon swirl coffeecake.  That was a ho hum pairing.  I would like to experiment more with this coffee.  I was curious about how it would work with savory foods, so I bought a chicken Santa Fe panini and tried that with it.  This was pretty good, however by the time I tried the coffee with the panini, it had cooled down so drastically that I am not sure I got a good pairing experience.
In any case, both coffees were great to explore.  The Kape Vinta is much more squarely a medium coffee than the Muan Jai.
Let me know if you've tried these coffees and what you think.  You can order them now at StarbucksStore.com.  (And I've included below a few more pictures from our impromptu tasting.)
A big thank you to Aaron and Mark who prepped this impromptu coffee event!  The Fourth and Union Starbucks really has coffee-passionate partners there.  And I want to say a special congrats to Aaron who told me that he just successfully assessed for shift supervisor this week!  Nicely done my friend!
Related posts