Starbucks Coffee Gear store: March update and a giveaway!
Melody, March 26, 2013
120
4 min

read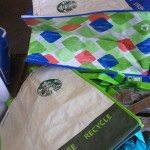 The Starbucks Coffee Gear store is open to the public, and located on the eighth floor of the Starbucks headquarters.  The address is 2401 Utah Avenue South, Seattle, Washington, 98134.  Yes, you should visit next time you're in Seattle!
When you go to the Starbucks Coffee Gear store, you'll find unique merchandise items not sold anywhere else.  (If you are a partner, you can buy most of the merchandise online at http://www.starbuckscoffeegear.com/).  Once every few months, I drop by to see what's new at the store.  Their merchandise changes frequently.  The Starbucks cycling jerseys seem to be in stock year round.  You can browse all my articles on the Starbucks Coffee Gear store here.
The one item that jumped out at me as being a super cool new item was the Starbucks logo grocery sack made from recycled bottles.
I bought one of them at the end of February,  and used it right away at the grocery store!  As everyone knows, just as it's the green thing to do to bring your own cup to Starbucks, it's also "green" to bring your own sacks to the grocery.  And here in Seattle, there are no plastic sacks at the grocery store (banned by city ordinance) and you get charged for having not brought in your own bag.  It's usually about five to ten cents bag charge, however I think the merchant can legally charge you a 25 cent fee for needing a paper bag at the grocery.  I love this grocery sack. It's strong, large, and works great at the grocery!
New: iPhone 5 official cases:
The new iPhone 5 official Starbucks cases are finally in.  I had dropped by in February, and they weren't in yet, and on today's visit (March 25, 2013), I discovered that they've just come in.  I know that several readers have told me that they want an iPhone 5 Starbucks cover.  There are two styles.  One is the "Year of the Snake" design, and the other is in black and has the star pattern associated with My Starbucks Rewards: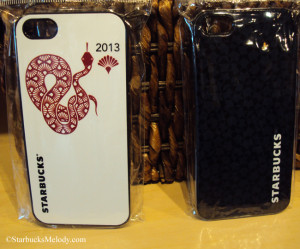 Looking at those iPhone covers almost makes me wish I had an iPhone, but I really like my Android.  I think I prefer the black stars pattern one.
*****GIVEAWAY*****
I have fabulous prizes to giveaway, courtesy of the wonderful people who run the Coffee Gear Store.  You're entering to win two great bags – One is the "Cape Code Tote."  That one has the logo on the front, and it's a nice sturdy canvas bag.  It's an item that is not being re-ordered, so it won't be available much longer.  The other is one of the new Starbucks logo grocery bags made from recycled bottles.  These two bags are super handy and your friends will be jealous!
Here are your bags, if you're the winner: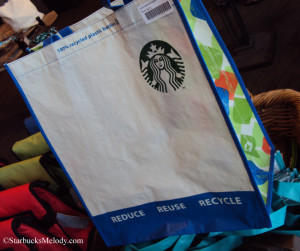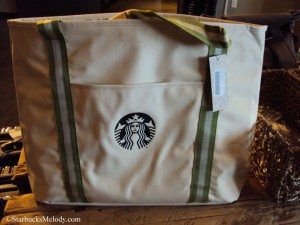 Here is how to enter:
1. Leave a comment below – You must tell me what merchandise you really want to see at Starbucks.  This is your chance to be creative.  If you want Starbucks snow globes, playing cards, or more holiday collectibles, please don't hold back!  What Starbucks logo merchandise would you want to buy?
2. One entry per person.  You must be over age 18 to enter.
3.  There will be one winner, based upon the number of entries.  The winner will be picked at random.
4. Contest closes on April 5, 2013 at 9:00 p.m. PST.  (Or it closes when there are 250 valid entries, whichever occurs first.)
5.  You must have an address within the United States.
6. While it is not mandatory, I would hope that you would "like" the StarbucksMelody.com page too.
Please bear with me.  This will definitely be a test of my newly-installed comment system.  I have noticed that the number of comments in the napkin icon is not updating regularly, but you can always look at new comments in the right rail column.  Give me a few days to draw a winner.  Your prize will be mailed directly to you from the Starbucks Coffee Gear store.
As always, sending me an email, or leaving a Facebook comment is not a valid entry.  It must be an actual comment on the blog.
FTC required disclosure:  This giveaway is sponsored by the Starbucks Coffee Gear store.  Thank you so much for offering to do this!
 ***********************************
And just a few more pictures from the Coffee Gear store:
Related posts