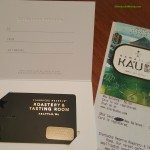 Enter this giveaway for your chance to win a Starbucks Roastery card, loaded with $50 on it. You must follow all of the rules to enter. I've done many giveaways over the years on this site. I've never had one where there wasn't at least several entries that didn't follow the rules. If your comment gets deleted, or doesn't appear, that might be why – following the rules.
I want to introduce you to my second Starbucks-related website, Pets Of Starbucks. I hope you'll check it out. I just posted this pic today!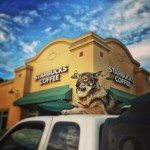 Here's how you enter to win this giveaway:
Leave a comment directly on the blog.
Your blog comment must include where you're from.
Do not write more than 50 words.
You must be within the first 200 comments below – Any entries after 200 will not be counted.
You must be over age 18.
You must be patient. Sometimes it takes me a few days to get things in the mail.
Please visit Pets of Starbucks – I hope you'll submit a photo!
You must tell me your favorite hot weather drink – I'm looking for iced beverages, not hot ones. (Or if you like, mention a cold drink that you wish Starbucks offered.)
You must post your comment on the blog before 8:00 AM (Pacific Standard Time) on July 3, 2015.
You may not enter more than one time.
You may not use the word "Frappe" in your answer.
For example, if I were entering this giveaway, I might write this: "I"m Melody from Seattle and without a doubt, my favorite cold weather Starbucks drink is the Fizzio Root Beer!"
All the names get entered into a Starbucks paper sack and then the winner's name is drawn out randomly.
Also, if I email you and notify you that you won, please get back to me. There was one time that it took me multiple emails and Facebook messages over several months to get someone his prize. If you ignore my emails, and fail to respond to me within 30 days, you forfeit the prize and it goes back to me as my Starbucks spending money. So far, I've never had someone completely ignore me, but I'm going to email you if you're name is drawn as a winner: please be aware of that. I'll likely email (and update this article) at some point on the 4th or 5th of July with the name of the winner. There will be a second consolation prize – A second Roastery card with only $5 on it.
Good luck!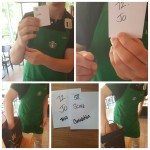 Related posts