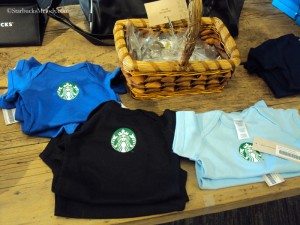 It has been a while since I've featured what's new at the Starbucks Coffee Gear store.  I dropped by the Coffee Gear store today, and was surprised to see a small selection of Starbucks logo shirts for infants!  That's truly for the hip and stylin' little baby!
For new readers, let me recap what the Coffee Gear store is.  On March 8, 2011, the Starbucks Coffee Gear store opened up in its current location inside the Starbucks headquarters, and for the first time, opened to the general public.  You do not have to be a partner to go shopping for Starbucks logo merchandise at the one physical Coffee Gear store location.  There was indeed a Coffee Gear store before March 8, 2011, however it was open only to partners (or customers would have to be escorted in with a partner to gain access to the store).
The Coffee Gear store is located at the Starbucks headquarters:
Starbucks Coffee Gear Store
2401 Utah Avenue South, 8th floor
Seattle, WA 98134
The store is open Monday through Friday, normal business hours.  It's closed on holidays and whenever the Starbucks headquarters is closed.
I know that I have a few readers who have actually taken a trip to this store; and I am sure I must have a few readers who have a visit to this store on their "to do" list when vacationing in Seattle!  The online Starbucks Coffee Gear store is open only to partners.   In short, the one physical store in Seattle is open to the general public, and the online store is for Starbucks employees only.
The merchandise available at this store is ever-changing, so I thoroughly enjoy dropping by and seeing what's new!  In addition to the new little infant tops, there are also little baby blankets!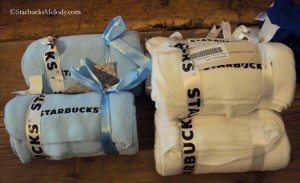 When it comes to new items, I have to admit that I thought this big and sturdy Starbucks mug (made especially for the coffee gear store) looked awesome!  It looks like you could enjoy a bowl of soup out of it: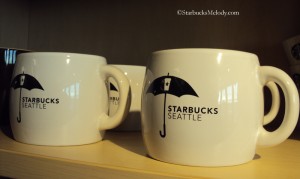 And John (the very nice guy who runs the store!) mentioned that these new travel bags are very popular: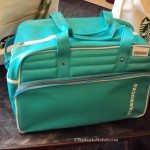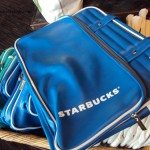 The travel bags actually come in four colors: Orange, black, royal blue, and the pastel green.  I should have taken a photo of all the colors, but you can see two of them.  All four of them looked like they'd be fun to tote around, but the pastel green was my least favorite.  (Though I hear that's a big seller!)
Other new items included a wine tote, and a photo album book.  I took a picture of a Starbucks rucksack too – I think it's been around for a few months, but I haven't mentioned it previously.
I get a kick of the logo merchandise at this store!  What would you want to see this store carry?  By the way, once in a while a few of the items in this store show up on the StarbucksStore.com gear page – that's one more option for finding logo Starbucks gear.
Related posts