Starbucks Headquarters: Coffee Gear Store and More.
Melody, May 12, 2013
20
3 min

read
I dropped by the Starbucks headquarters this past Friday (May 10th).  It's affectionately called the "SSC" – The Starbucks Support Center.  You will find the SSC at 2401 Utah Avenue South, Seattle, Washington, 98134.  Take the Link Light Rail to the SODO station, and simply walk west to First and Lander Streets, and you cannot miss it.
The Coffee Gear Store is open to the public – take the elevators to the 8th floor to find it.  I know that sometimes there is confusion that you might have to be a Starbucks partner to shop there.  At least as far as going to the one physical Starbucks Coffee Gear Store in the headquarters, anyone can shop there.  It is open to the public.  This is the place to find unusual logo merchandise that cannot be had anywhere else.  There are logo tote bags, t-shirts, sweatshirts, headbands, pens, magnets, key chains, and much more.
On this visit, I noticed a few new things:
I noticed these tiny Starbucks logo buttons, which I am told are a top seller right now. They're very new to the store.  Apparently, you place them on the "home" button of your iPad or iPhone.  Since I am much more an Android user myself, I was a little confused.  I can't say that I'd ever noticed buttons  for i-devices before, but I will definitely pay attention now.
Here's the little iPhone buttons: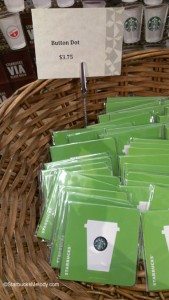 I waited in the lobby of the headquarters, as I was meeting a partner there that day.  I noticed these coffee mugs in the lobby of the Starbucks Support Center: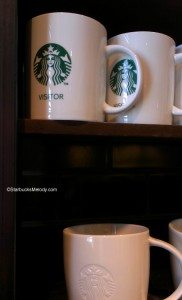 They tickle my funny-bone!   They'd be a little better if they said "VIP Visitor" on them. 😉  Seriously, I think they're kind of cute, and since I was very thirsty, I walked around holding a "Visitor" mug in my hand, filled with water.  It's funny but I posted this picture on the Facebook side of this blog already, and one person found them offensive.  I think that's reading too much into them.  I got a good laugh out of these mugs- and I very much wanted to take one home with me! (Of course, I returned the mug at the end of my visit).
I dropped by to say a quick goodbye to a friend who is a Starbucks partner.  She's leaving Seattle, and will be gone shortly so this was my chance to say goodbye over a cup of coffee.  She's not leaving Starbucks, rather moving to a new region.  As I was inside the SSC, I noticed this sign: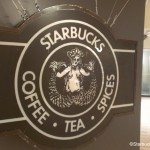 The funny thing is, I am sure I have walked past that sign before at some point in the past, yet never snapped a pic of it before.  My friend thought maybe the sign had come from the store at 1912 Pike Place, but I've been told that it came from the original Starbucks roasting plant on Airport Way in Seattle.  Actually, the 2010 Airport Way facility was a consolidated roasting plant and headquarters for Starbucks up until about late 1993.  According to the Seattle Times, in 1993, Starbucks had grown to over 350 headquarters employees, and had outgrown their Airport Way headquarters/roasting plant location and the company moved their employees to their new headquarters location at 2401 Utah Avenue South in two phases.  That also means that as of this year, the company has been headquartered at 2401 Utah South for 20 years!
Here's the Seattle Times article for the Starbucks history buffs reading this. 😉
Hope you enjoyed this trip to the SSC with me!
And for all the moms reading this, Happy Mother's Day!  I hope someone is serving your coffee in bed!
Related posts