Super beautiful: Starbucks Three Region Blend
Melody, April 13, 2013
18
2 min

read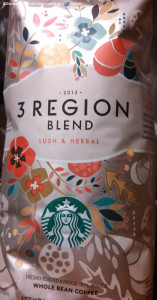 This year's Three Region Blend packaging has had a makeover.  It's super beautiful.  I like it so much more than in the past.  Starbucks first launched this coffee into their lineup in May 2010.  It's an expertly-blended coffee with beans from three growing regions:  East Africa, Asia Pacific, and Latin America.
I still remember one of my first coffee tastings with this coffee.  Three years ago, a coffee master at First and Pike Starbucks paired black plums with it, and that was perfect.  I am looking forward to this coffee, and the chance to order it iced for the summer.  While this coffee is generally classified as "bold," it has always seemed to me to fall on the edge between medium and bold.  The coffee master who arranged that tasting (sadly, no longer a partner) had sent me this email about her experiences with Three Region Blend:
We tasted a black plum in order to bring out the subtle acidity that can be attributed to the New Guinea coffee.  Coffee from New Guinea is said to often have a "stone fruit" taste, and this is brought out particularly when the coffee is washed.  We spoke with the tasters here about the use of the term "acidity" when describing coffee, and how those flavor descriptors can range from lemon to grapefruit to plum.  The plums were some of the first of the season, and are the only ones currently available at the Pike Market fruit stands.  …We tasted the flesh of the plum first, then the skin, which allowed for varying degrees of intensity in flavor and in complement to the acidity in the coffee.
That was a memorable coffee event.
Look for Three Region Blend at your local Starbucks on April 30, 2013.  Until then, here's an official Starbucks blog article on this coffee.
I couldn't resist showing off how gorgeous the new design to Three Region Blend.  Take a look:
Related posts