New Starbucks Reserve Available October 15th: Colombia Caldas.
Melody, October 15, 2013
10
3 min

read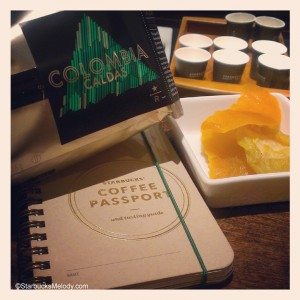 Starting Tuesday, October 15th, Starbucks is offering a new Reserve coffee.  It is the Colombia Caldas coffee.  I went to a coffee seminar for it tonight, conducted by Coffee Master Jess, at the East Olive Way Starbucks.  (Follow East Olive Way Starbucks on Instagram here.)  We compared the coffee made in a French press with it via Clover brewer, and Jess paired it with dried fruit – mangoes and pears.  And then finally, we tried the coffee with some chocolate fondue.
The Colombia Caldas is a high elevation coffee (5,300 – 5,950 feet) from 97 small-holder farms in the Montebenito growing region of the Colombia.
We first had this coffee prepared by the Clover coffee brewer.  The aroma was very herbal.  The general tasting notes for this coffee describe it as having herbal and soft chocolate notes.  Having said that, there definitely is a big herbal aroma to this coffee, and from the Clover, it has the brightness, and a bit of tang-iness characteristic of a fully washed coffee.  From the Clover, this is seems fairy light in the mouth.  I loved this being paired with the dried mango, and thought that reduced the acidity in the coffee, and complemented the sweetness.  I sort of thought that the cocoa nib flavor of this coffee was secondary to herbal and dried fruit tasting notes.  The dried pear pairing was really interesting.  The pears themselves had a soft, grainy texture, and the heavy texture of the pairs worked to amp up the body of this coffee.  I personally didn't get a lot of the cocoa notes – I definitely to try this again with a chocolate pairing of some sort.
By the way, if you get the chance to attend a coffee event with Jess, you should.  She is a true coffee master.  She always works through every step, (smell, slurp, locate, describe), has conducted countless coffee events, knows how to pair coffee with food, and is incredibly knowledgeable about coffee sourcing.  Here she is in a good "smell" photo: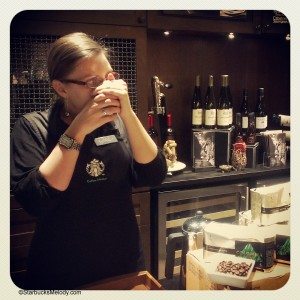 I took a picture of the whole beans too.  You can see that they've been given a medium to dark roast treatment: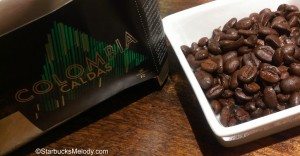 We also had this coffee prepared via a French press.  It was remarkably different from a press!  It was a good reminder of how the brew method can dramatically change the flavor of a coffee.  The aroma was still woodsy and herbal.  From a press, this coffee had a bigger body in the mouth, and less acidity.  By the way, even when paired with the chocolate fondue, I still didn't think this coffee had a lot of coffee flavor.  Paired with the dried mango, the sweetness in the coffee came back to life.
You can find this coffee for $12.95 a half pound, which seems very reasonable for a Reserve offering.  Order it online here on StarbucksStore.com.
The side of the bag has a little coffee sourcing information also, in case you are interested: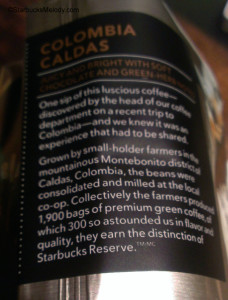 If you are interested, there are more coffee tasting articles here.
I hope you'll join me at the East Olive Way Starbucks for the next seminar – it is scheduled for October 28, 2013, at 6:00 p.m., at the East Olive Way Starbucks which is at 1600 East Olive Way, Seattle, WA, 98102, (206) 568 – 5185.  Come join me on the 28th!  You can follow their seminars on Facebook as well.
Let me know what you think of the new Colombia Caldas!
Related posts