Crystal Shipman: Starbucks partner & passionate about all things Evolution Fresh.
Melody, April 11, 2013
4
4 min

read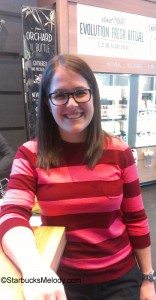 It's time to catch up with Evolution Fresh!  I had the chance to sit down with Evolution Fresh's Crystal Shipman, and talk to her about all things exciting and new in the world of Evolution Fresh, as well as a bit about her career path as a Starbucks partner.
For those who don't recall, there are four actual Evolution Fresh juice locations:
Filmore neighborhood – San Francisco
Crystal has been a partner since 2001, and I wanted to know a little bit about how she ended up at Evolution Fresh.  Currently, Crystal is the Field Implementation Manager for Evolution Fresh.  I asked her about the nitty gritty of her job and it sounds like she functions as both the district manager for all four stores (with those store managers reporting to her), as well as ensuring that the operations for new launches, and training function as smooth as possible.
She started as a barista for Starbucks while in college in 2001, and she said, "I worked my way up from barista through district manager over the course of eight years."  She was in Eastern Washington for all the eight years, attending University of Idaho, and mostly working in Spokane.  Crystal moved to Seattle to be a part of operations, and in then in November 2011, Starbucks acquired Evolution Fresh.  It was about that time that she was approached for a six-month temporary position working in initial implementation of the first Evolution Fresh store.  The six month position grew into a permanent one, and she loves it!
I asked her what's new at Evolution Fresh, and as it turns out, today (April 8, 2013)  is the launch of three new beverages at Evolution Fresh!
Smooth Breakfast Smoothie – This is quite the full meal in a smoothie!  It has non-fat Greek yogurt, a banana, apple juice, pineapple juice, a package of Starbucks Perfect Oatmeal, cinnamon, a stick of Veranda Via Ready Brew, and ginger.
Smooth Lemon Smoothie – This is a really refreshing, light, summer-y smoothie.  I believe this one is intended as a seasonal summer item.  This smoothie has pineapple juice, organic lemon juice, ginger, pineapples, and a banana.
Minted Lemon Juice – I pucker up a bit just writing about this summertime beverage.  It's coconut water, pineapple juice, organic lemon juice, mint water, and ginger.
I asked a few questions about the sourcing of the fruits and vegetables for the Evolution Fresh juices.  Evolution Fresh tries to source as much as possible locally.  About 70% of all the fruits and vegetables used in the Evolution Fresh juices come from within 200 miles of their main operations headquarters located in San Bernardino, California.  This means that the majority of fruits and vegetables are California grown.  I thought that was pretty cool to hear!
Evolution Fresh stores are still looking for partners who are passionate about health and wellness, and juice.  Their position openings are posted at Starbucks.com/careers.  If you have questions about career opportunities with Evolution Fresh, Crystal will try to field emails too.
I hope you enjoyed this look at Evolution Fresh as much as I did.  On a personal note, this is one aspect of having a Starbucks blog that is most enjoyable:  I genuinely enjoy sampling a variety of new beverages, and having the opportunity to meet and interview partners who are passionate about their brand.  It's a pleasure.  And the pleasure was all mine.  Thank you so much Crystal for making this happen.  (And big thank yous to Marianne, the Starbucks public relations person who coordinated it).  I think as part of required FTC disclosure, I must mention that I didn't pay for the food and beverage that I sampled during this interview of Crystal.
I know that not everyone has one of the four Evolution Fresh juice stores near them, but the Evolution Fresh bottled juices are showing up in Starbucks all over the U.S.  I hope you enjoyed meeting  a partner who is a part of Evolution Fresh, and hearing a little bit about what they're doing.
******
Related articles:  You can browse all the previous articles on Evolution Fresh by scrolling the blog articles here.
Related posts