I can't help but notice that Starbucks has some interesting things going on right now with Blonde Roast coffee!  In Chicago, for a limited time, if a customer buys whole bean Blonde Roast coffee on Fridays, he or she gets $5.00 off the pound of coffee!  And, to add to that, under the "Green" level benefit of MyStarbucksRewards, a customer can still get a free tall beverage too.  As a reminder, in order to receive MyStarbucksRewards perks, a customer needs to use a Starbucks card, register it at Starbucks.com/card, load money on the card, and use it to pay for purchases.  After just five swipes of that card (or any card registered to a customer's Starbucks.com/card profile), the customer moves up to the "Green" level of rewards, which includes a free tall beverage when buying a pound of beans.  The registers will automatically deduct the tall beverage.  This free tall beverage perk is available at both the "Green" level and the "Gold" level of benefits.
Here is what the Chicago $5.00 off coupon looks like: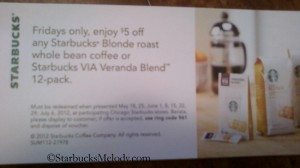 In other Blonde Roast news, in some areas of New England, Starbucks has launched Iced Willow Coffee.  Just as a reminder, there are a limited number of places (mostly in New England) that already offer decaf Iced Coffee.  In other words, in some New England Starbucks stores, a customer can choose from Iced Coffee, Decaf Iced Coffee, or Iced Willow Coffee.  That is a heck of a lot of iced coffee!  New England-ers must really like their iced coffee!  Here's a promo image I was able to get: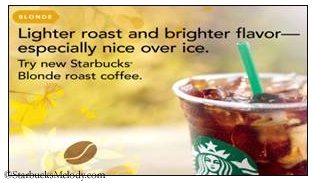 I kind of like the idea of Starbucks offering Iced Willow.  I've ordered that a number of times at Clover Starbucks locations, and it is a refreshing very light iced coffee.  I wouldn't want to replace the existing iced coffee, but I don't mind the idea of adding another iced coffee option.
Feel free to talk about anything related to Starbucks Blonde Roast.
Related posts