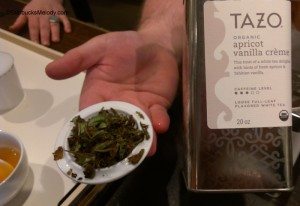 Recently,  I went to a tea tasting at the Tazo Tea store.
Last Saturday (May 4, 2013), I walked into the Tazo Tea store right as Megan (the store manager)  and Aaron (a Tazo tea partner at the store) were just getting started on a tasting of three white teas:
This was a lot of fun.  While I have been to many coffee seminars, I have been to far fewer tea tasting events.  All three teas were white teas, as I have already mentioned.  The Silver Needle was the lightest in flavor profile, though interestingly had almost a buttery aroma!  Berryblossom White was a fantastic tea.  I bought a tin of the loose leaf Berryblossom White to take home with me.  I love the cranberry aroma from the tin, and I like its light berry and floral, refreshing flavor.  It had a very clean finish as a hot tea.  The friend I was with (Kristen) far preferred the Organic Vanilla Apricot tea, though I thought it had an odd lingering flavor as a hot tea.
While I was there, I tried the Berryblossom White Tazo tea as a sparkling iced tea!  I have said this many times, but I really do hope that some day Starbucks launches sparkling teas in all of their stores: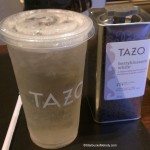 I bought some tea while at the Tazo store, and I have been making the Berryblossom White tea as an iced tea at home since then.  I do add a little sugar.  This tea is one of the best iced teas in the Tazo lineup.  However, I have discovered through some trial and error that it is super important not to over-steep a tea!  I think I've got it down.  It really takes no more than 3 minutes to steep this tea as an iced tea.  I'm sure the tea experts reading this already know how important it is not to over-steep a tea.
Take a look at the rest of the photos from tea tasting!  Both Kristen and I enjoyed our trip to the Tazo Tea store!
You can follow Tazo tea on Twitter too.  There is also a Tazo tea Facebook page and you can order Tazo tea from their website.
Related posts