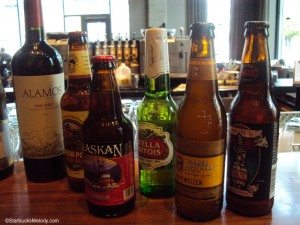 By request, I am writing about the Starbucks Evenings stores.  It's been a while since I've talked about the Starbucks locations that offer beer and wine, and unique food offerings.  And, recently I received an email from reader asking me if I knew anything about the "beer and wine Starbucks" locations.
History of the beer and wine – "Evenings" Starbucks:
For background information, beer and wine was first launched in the two Seattle "experimental" Starbucks – Roy Street Coffee and Tea, and 15th Avenue Coffee and Tea.  On February 1, 2011, 15th Avenue Coffee and Tea converted back into a Starbucks, but continued its beer and wine menu offerings.  Roy Street is still an experimental store, as I write this.  On October 18, 2010, the East  Olive Way Starbucks opened (well, officially "re-opened" after a closure for remodeling) as a beer and wine Starbucks.  The "East Olive Way" Starbucks became the first official Starbucks-branded store to offer beer and wine.  Following the success of East Olive Way, Starbucks  slowly began to introduce beer and wine into more of their locations.  In Seattle, the most recent Evenings location is the Terry and Republican Starbucks.
Current Evenings Starbucks:
Currently, there are about twenty "Evenings" Starbucks locations.  These stores will offer unique food items such as Bacon Wrapped Dates with a Balsamic Glaze, or Parmesan-Crusted Chicken Skewers, and beer and wine.  What you may find is that there is great similarity in the food menu items at each Evenings location, but the beer and wine selection vary a little more, to cater to what's locally available.  About a year ago, I did an article just on the Evenings Starbucks food, and I recommend clicking through that too!
According to Starbucks.com, these locations are Evenings stores:
Streets of Woodfield
601 North Martingale Road
Schaumburg, IL 60173
Burr Ridge
515 Village Center Dr
Burr Ridge, IL 60527
Sheffield and Diversey
1000-1002 West Diversey Ave, Unit C-102
Chicago IL, 60614
200 S. Michigan Ave
Chicago, IL 60604
Embassy Suites
600 N. State St.
Chicago IL, 60654
Oak and Rush
948 N Rush St.
Chicago, IL 60611
Oak and Rush III
1003 N Rush St.
Chicago, IL 60611
15th Ave E
328 15th Ave E
Seattle, WA 98125
Madison Park
4000 E. Madison Ave.
Seattle, WA 98112
Issaquah
1460 NE Gilman Blvd, Suite K1
Issaquah, WA 98027
Olive Way
1600 East Olive Way
Seattle, WA 98102
Terry and Republican
442 Terry Ave N
Seattle, WA 98109
Starbucks Lowes Plaza
30465 Avenida De Las Flores #D
Rancho Santa Margarita, CA
92688
Agoura & Las Virgenes
Creekside Village Shopping Center
26531 Agoura Road
Calabasas, CA 91302
Roswell Marketplace
10800 Alpharetta Highway Suite 312
Roswell, GA 30076
West Paces Ferry
1200 West Paces Ferry Road NW
Atlanta, GA 30327
I-75 & Howell Mill Road
1801 Howell Mill Rd
Atlanta, GA 30318
Medlock & State Bridge
9700 Medlock Bridge Road E5
Duluth, GA 30097
Brewery Blocks
1031 NW Couch St
Portland, OR 97209
Washington Dulles International Airport
Concourse B
Washington, D.C. 20041
I took all of the photos for this article at the Terry and Republican Starbucks, on April 28th.  Some of your wine options (in the Seattle-area Evenings Starbucks) include a Riesling from Chateau Ste Michelle, a Erath Pinot Gris, and a Ferrari-Carano Chardonnay.  A barista mentioned to me that the Rosa Regala Brachetto is popular also.  You can also get a sparkling Villa Sandi Prosecco.  And of course, there are red wine options too.  From a California winery, the Apothic Red Blend is available, and from Oregon, the Lange Estate Pinot Noir is available.  Starbucks also offers the Columbia Crest H3 Cabernet Sauvignon.  There is no doubt, the beer and wine list is subject to change.
If you really want to grab some collectible wine glasses, while you're at the Evenings Starbucks stores, you can buy Riedel wine glasses made for Starbucks.
The Evenings food options are definitely what makes me happy.  The Blue Brie Cheese plate is amazing.  Although not shown, I've eaten more than my fair share of the Truffle Mac and Cheese.  And the Seasonal Vegetables with the Chipotle Hummus is fantastic too.  So here are my pictures from my visit to the Terry and Republican store: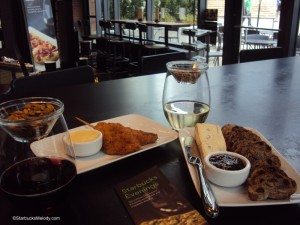 By the way, if I have any readers who plan on visiting the Oak and Rush locations in Chicago, please email me photos!  I do not know which one of those two stores it is, but I've heard that there is a Simonelli being tested at an Oak and Rush Starbucks in Chicago.  That would be a Starbucks with a manual espresso machine!
If you've been by an Evenings store, I'd love to know what you think.
Here's a look at the food: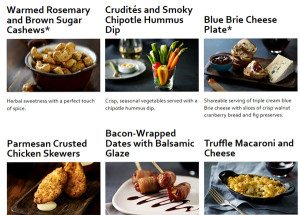 Related posts