Tazo Tea Card (giveaway)
Melody, November 24, 2012
136
3 min

read
I'm getting a kick out of my new found fun with tea.  It's loose leaf Chai tea that's been tickling me pink.  That, and my new Tazo Tea card: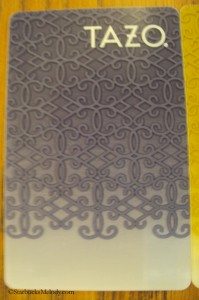 The new Tazo Tea card comes in 3 colors, and purple is the one that has my name all over it.  It's definitely the prettiest of the three.  By the way, if you look at eBay, it's surprising that these cards are already starting to be sold there.  Somehow collectors started snatching them up quickly.
Here's the skinny:
You can use your Tazo card as a form of payment in any Starbucks store, any Evolution Fresh store, and at the one Tazo store.
You can load money onto your Tazo card at any Starbucks, Evolution Fresh store, or at the one Tazo store.
You will earn a "star" for each swipe with this card at any Starbucks, Evolution Fresh, or Tazo.
And you can register it at Starbucks.com/card, just like any other Starbucks card.
It can be used exactly like any other Starbucks card.
Jumping back to tea, as I mentioned, it is loose leaf Chai that I have really been having fun with.  The tea looks so pretty, and smells amazing.  I always add a little milk and sugar to my tea at home.  I'm sure I'm torturing my tea to something that comes as close as possible to coffee.  I use way too much in my infuser.  And it will never be my morning beverage!  Here's my fun with tea at home: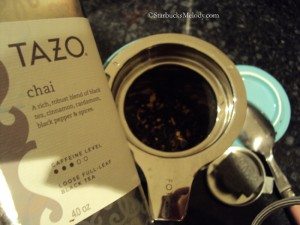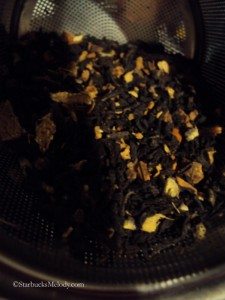 In case you missed, my article about the grand opening of the Tazo Tea store is here.
It's been one month since my last giveaway!
Do you want to win one of those awesome Tazo cards?  There would be a serious coolness factor to pull a Tazo card out at the register.  And, this card actually says on the back that you can use it at Starbucks too!
Here is how you enter to win a $25.00 Tazo Tea card:
1.  Leave a comment about tea.  Anything you want to say about tea.  Iced. Hot. Teavana. Tazo.  Instant.  Loose Leaf.  Heavily sweetened.  Herbal.  However you like your tea.  However, no spam comments; No posts to buy or sell items that you own or have a financial interest in.   No key words as names; and no non-civil comments.
2. One entry per person.
3. You must have an address within the United States, Canada, or the U.K.
4.  Please watch for the winners announcement within 7 – 10 days of the contest close.  I've learned the lesson where I've seen people not reply to my emails telling them they've won, and never return to the site.  If you don't contact me within 21 days of winning, your prize is forfeited.
5. Leave your comment before December 06, 2012, at 6:00 p.m.
6.  You must be over 18 years old to enter.
7.  It's not required, but I hope you'll either "subscribe" or "like" this site.
8.  I suggest you leave a comment using an email address that you really check.
9.  As always, odds of winning depends on the number of entries.  Winners will be drawn at random.
I think many of my readers probably don't know that Tazo has a partnership with Mercy Corps to help improve the lives of people growing tea.  It's part of the mission to ethically source tea.  Now that Tazo Tea has taken a bold step towards center stage in the world of Starbucks brands, I hope to see that partnership developed and strengthened further.  Once upon a time, Starbucks offered a Conservation International Starbucks card.  Maybe someday we'll see a Tazo Tea Mercy Corps card?  I can support that idea.  What do you think?
I can't wait to read your comments.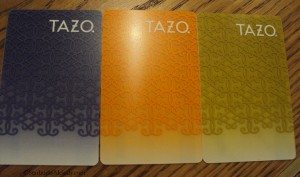 Related posts