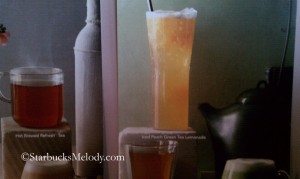 Starbucks is testing a new beverage.  It is an "Iced Peach Green Tea Lemonade" and it is available in selected Starbucks stores in Austin, Texas; Columbus, Ohio; and San Diego, California.  It is fantastic!  It's a new Tazo tea item, and I am keeping my fingers crossed that it will nationally launch.  As incredibly good luck would have it, the new Peach Green Tea Lemonade was available for sampling at the Starbucks 2012 Shareholders' Meeting, so I finally got a chance to try it.  There was a Tazo table set up at the annual meeting, and so I took a few photos of the signs and displays at this table.  Note, I had only my phone with me, so the quality is a little low.
By the way, I was with a friend who absolutely loved the new drink too.  Please Starbucks, launch this new beverage!  It appears to be a green tea lemonade with added peach syrup, and reconstituted peach pieces mixed in.  I know I have already said this, but I really did like this drink!  Although it sounds like it would be excessively sweet, I did not find that to be the case.  It was very refreshing, and I only wish I could have taken a bottle of the peach syrup with me to try in other beverages.  In one of the photos below, I managed to get a corner of the bottle in the picture, as I was taking a photo of the Tazo table.
I want to mention that I have written about Starbucks "test" items on numerous occasions on this blog.  I have a whole category about it:  Starbucks test products.  As some people know, writing about test items is one of my very favorite things to cover on this blog.  Having said that, I have quickly learned that Starbucks tests many more things than what actually launches nationally, so please know that what you read here on this blog, more likely than not, will never make it out of testing phase.  For those of you who remember way back to September 2009, it was indeed the incredibly delicious Honey Vanilla Vivanno that, in part, inspired me to start a blog at all!  (There were other reasons too, but I definitely wanted write about that delicious drink!)
My review of this new drink is two thumbs up!  By chance, do I have any readers who have had the chance to try this new beverage?  Is it something that you would want?
Related posts