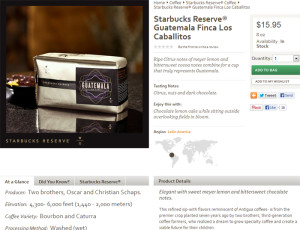 Right now, on StarbucksStore.com, there is a gem of an online-exclusive coffee:  It is the Reserve Guatemala Finca Los Caballitos.  Sourced from a single farm in Guatemala, there were not large enough quantities of it to offer to all Reserve Starbucks stores.  I ordered a bag of it, and dashed to the East Olive Way Starbucks, enlisting the help of Coffee Master Jess for a mini coffee tasting.
Click here to find the Guatemala Finca Los Caballitos on StarbucksStore.com.
I have decided that I genuinely love an excellent single-origin, small batch Guatemalan coffee.  Lemon and dark chocolate notes are sometimes the hallmark of such coffees, similar to the flavor notes of the ever-popular Casi Cielo.  This Guatemala Finca Los Caballitos is squarely a medium roast profile, and medium bodied coffee.  The beans themselves are deliciously aromatic with bittersweet chocolate aroma.  I definitely got the lemon notes from the brewed coffee.  Jess brewed this on the Clover on the same setting that would be used for the Guatemala Finca Medina coffee.
I brought in some La Boulange goodies to try with this coffee.  These La Boulange treats are the kind of treats that would be normally sold at the actual La Boulange stores in San Francisco, however they were part of a gift bag that I received from Starbucks during a special La Boulange tasting event last week.  Jess and I paired La Boulange Lemon Nuage cookies with the Guatemala Finca Los Caballitos: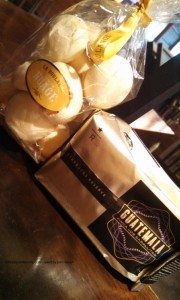 I enjoyed the Lemon Nuage cookies with the Guatemala Finca Los Caballitos.  I thought that the lemon notes really came alive with this very lemony cookie.  Jess had thought that the cookies were almost a little bit too sweet for this coffee, though I disagreed with her!  If you are in San Francisco and you can try these lemon cookies, you should!
We noticed that this coffee has a little darker profile, and a little bit bigger body than the Guatemala Finca Medina, a current Reserve Starbucks offering.  Paired with a Chocolate Spice Biscotti, it started out nicely with the chocolate notes pairing well with this coffee, but with spice notes overpowering it at the end.  We also tried it with the classic Starbucks brownie, and I thought that was a fine pairing.  It gave the coffee a little more creaminess to it.
Basically, every cup of coffee that I have had from this coffee has been awesome.
Today, (May 26, 2013) I took some Guatemala Finca Los Caballitos to the Fourth and Union Starbucks.  The shift supervisor, Mark, was eager to try it, and we had great conversations as I hung out at his store for a while.  We paired this coffee with the chocolate croissant made by La Boulange – and I thought this was the best pairing yet.  Definitely, a lot of chocolate notes came out in the coffee, and the buttery-ness of the croissant gave the coffee some fullness, somewhat diminishing its clean finish.
Here are some random photos from these two coffee tastings for Finca Los Caballitos – Thank you Jess at Olive Way Starbucks, and Mark at Fourth and Union Starbucks!  As always, click onto the photos to make them larger.
Related posts