Sweden – A Starbucks in the Train Station.
In case I haven't mentioned it, I like receiving emails with lots of photos of a beautiful Starbucks store.  It's really fun to see what Starbucks is doing around the world.  I realize that I am not going to get to all of these amazing places, and so I am thankful when you bring them to me.
And I am reminded of a quote I heard about Starbucks once.  Unfortunately, I have been Google-ing like crazy and I can't find the exact quote, or where I heard it, but as I recall, the lore is about one executive talking to Howard Schultz about having opened up many Starbucks stores.  The gist of the quote was this:
"We haven't opened up thousands of  Starbucks.  We have opened up one Starbucks thousands of times."
My apologies that I don't have the quote verbatim, nor the exact attribution.  But, I leave you with that thought.  To me, it means that you find a piece of 1912 Pike Place Starbucks in every Starbucks you visit, and there is consistency in knowing you will meet friendly baristas, and have a great beverage. What does it mean to you?
And now for a few photos from a Starbucks in Sweden, in the Malmö Central Station: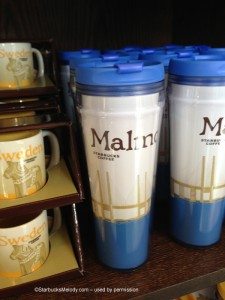 I saw this photo and thought how great it would be to have a Sweden icon mug for my collection!  The sturdy mug with the yellow interior definitely caught my attention!  I really do like this 'global icon' series of coffee mugs, which are slowly being phased out in favor of the 'You Are Here' series of coffee mugs.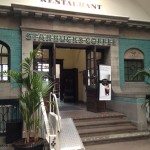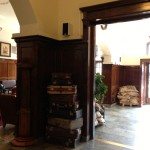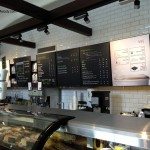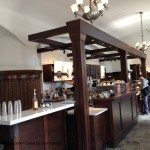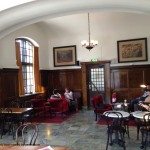 If you enjoy looking at Starbucks all over the world, I recommend you peruse some of the older blog articles on this site, now a couple of years old.  Reader Sebastian Birr had emailed me these great photos of Starbucks in Instanbul, which still amaze me how beautiful they are.  This too is a very old article, but the Starbucks store featured in it, in Mexico, looks like a wonderful place to relax with a cup of coffee.  A few years ago, a friend of mine went on a vacation to Aruba and took these great pictures.  Who wouldn't want a Starbucks right on the water?  And more recently, a reader emailed in these great photos of a Starbucks in Copenhagen.
And by the way, I will definitely feature U.S. Starbucks stores too!  About two months ago, I received an email full of stunningly great pictures featuring a Starbucks in Atlanta, Georgia!  I know that some partners still are unsure of the Starbucks photo policy.  The Starbucks photo policy has become extremely friendly towards photos in stores – you can take pictures inside a store.  From what I recall, the policy began to go through a major overhaul about the same time that Starbucks Instagram took off.  In any case, to be clear, at the moment I am referring to the U.S. policy about photos in stores.  I'm not sure what the international policies are.  I talked about the details of the Starbucks photo policy in this article about a Clover Starbucks in Denver.
Related posts